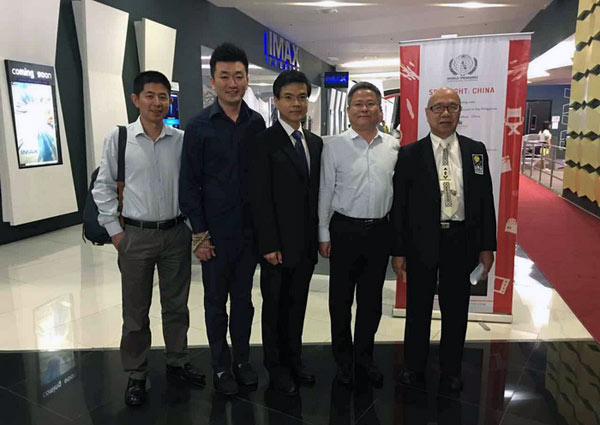 The Chinese delegation poses for a group photo in front of an IMAX theater. [Photo/Chinaculture.org]
China Film Week at the 3rd Philippine International Film Festival kicked off on June 27 in Davao, a beautiful coastal Philippine city and also new president Rodrigo Duterte's hometown.
Young Love Lost was screened at the opening ceremony, drawing hundreds of viewers. During the week, seven Chinese films were screened, including Miss Granny, Let's Get Married and Wolf Totem.
"Chinese films are indispensible to the world film art and market. They tell Chinese history and promote Chinese culture. We hope the China Film Week serve to further exchange and cooperation between two film industries, increase heart-to-heart conversation between two peoples and deepen friendship between two countries," Chinese delegate Liang Bin said at the opening ceremony.
Miguel, Director of the Film Development Council of the Philippines noted, "China's film creation and development have been under the global spotlight for years. The China Film Week at the Philippine International Film Festival is significant for exchange in two film fields. I call for citizens of Davao to watch and know more about Chinese films during the week. "
Having conveyed the greetings from Davao's mayor, representative of Davao government O'Reiley expressed his hope to strengthen bilateral collaboration in filmmaking to create great works.
On June 29, Liang and his entourage attended the festival's opening and talked with representatives from eight other countries.