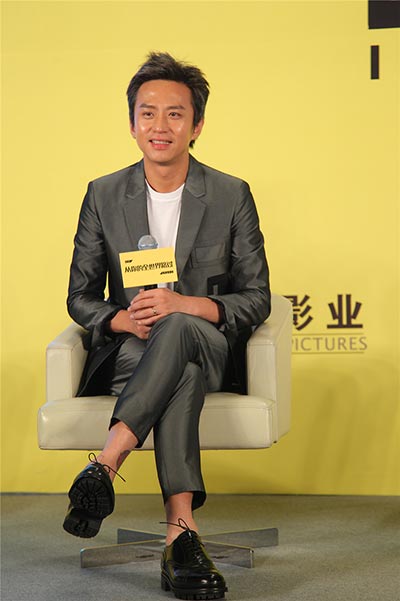 Actor Deng Chao. [Photo provided to China Daily]
Chinese actor Deng Chao has teamed up with actress Zhang Tian'ai for a romantic film
I Belonged to You
.
The film, based on a novel of the same name, is about a romance between two disc jockeys.
It will be premiered on Sept 30 and compete with a powerful rival, Legend of Ravaging Dynasties, author and director Guo Jingming's latest film, which is also based on his book of the same name.
Guo's Tiny Time franchise is one of China's highest-grossing movie series of all time.
But the producers of I Belonged to You say that they have confidence in the film's potential.
The novel I Belonged to You has sold 7 million copies since 2012, and its author Zhang Jiajia, is an internet sensation and emerging scriptwriter who is followed by 10 million fans on Sina Weibo, China's equivalent of Twitter.
Separately, Deng, who was recently in the news for his role in the hit Mermaid, says the new film features a lot of emotional moments which will resonate with audiences.
He also says that filming in Sichuan province's Daocheng county was a major challenge for the crew. "We shot some scenes at around 4,700 meters above sea level, and most of the crew suffered altitude sickness."
Related:
Sex life doesn't slow down actor Wu