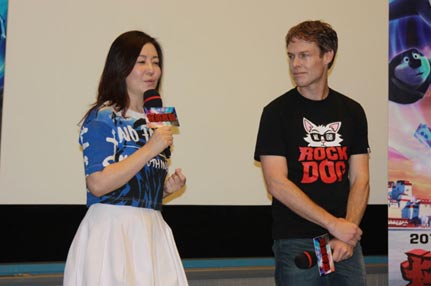 Amber Wang and Ash Brannon. [Photo provided to China Daily]
Blockbusters with Chinese elements, such as kung fu, have been attracting global audiences since 2008. The popularity of such movies, while bringing audience a new source of happiness, has also raised a fundamental question as to when will Chinese filmmakers be able to make good use of China's rich historical resources to create works that will match those of Hollywood. 
A pre-opening saloon for upcoming Chinese animated feature Rock Dog was held in Beijing on July 2, where filmmakers discussed emerging trends of Chinese animated production and the Chinese way of storytelling.
Rock Dog, China's first 3D production with global release, directed by Toy Story 2 director Ash Brannon, is based on a namesake comic by rock star Zheng Jun. Renowned figures in China's film industry like Feng Xiaogang and Zheng Jun himself joined in for the dubbing. What is worth mentioning is that the movie has adopted a creative "Chinese investment + Chinese intellectual property + Hollywood team" model in terms of production. In addition, its six-year-long effort, US-China production team, mixture of animals and rock elements has all made this movie outstandingly creative.
Brannon was present at the event, expressing his gratitude and sharing his experience of how his years with the movie have turned from a job to a gift.
"I really enjoyed my time with the Chinese team, Amber Wang and Zheng Jun. Overtime I realized that what we were trying to produce was really a high-quality movie and we were doing it with patience. The story, to some extent, tells Zheng Jun's personal experience and such experience has been a great help to the Hollywood team, familiarizing the team with Chinese history and about Tibet."
"Being able to tell such story in a way that can be understood by people outside China was not easy. But ultimately it was a story about pursuing one's dream, which was inspiring to all of us. Moreover, we realized the importance of conflict in the story and that source of passion inside everyone is different. As you can see from the movie, the passion of Bodi (the rock dog) is red while that of his father is blue. Such conflict and difference has been taken good care of on the poster by our Chinese team and I am really grateful to them," Brannon added.
The movie is about a Tibetan Mastiff named Bodi, who is expected to become the next village guard to a group of fun-loving, countryside sheep, but was inspired to leave his village in the mountains and move into the big city to become a rock musician.
Amber Wang, producer of the film, said the team exerted great effort in the past six years to create a film full of passion, heart and perseverance.
Rock Dog has made its presence at Festival de Cannes in 2015, appeared on the cover of The Hollywood Reporter and attended the New York Comic Con. The movie, ready to stir up the crowd with extraordinary visual experience and music, will hit the theaters on July 8.