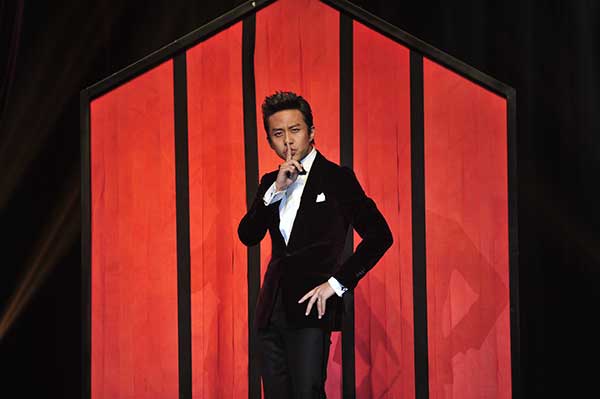 Deng Chao attends the opening of Super Theater in Beijing. His dream of theater has finally fulfilled after years of preparation.[Photo provided to China Daily]
A new theater fulfills a dream, actor Deng Chao tells Chen Nan.
Deng Chao set a goal for himself 15 years ago: to open a theater.
On June 26, Deng announced the opening of Super Theater, and four days later its first play, Child Delivery Guru, was staged.
When he set his goal, Deng was 22 years old - in his third year of study at the Central Academy of Drama in Beijing. He was just achieving fame from his performance in the comedy play Cui Hua, Serve Suancai, Please.
Soon after graduation, he acted in popular TV series, such as The Young Emperor and Happiness Is Like Flowers, which won him opportunities to star in some big-budget movies, including famous Chinese director Feng Xiaogang's film Assembly, and Detective Dee and the Mystery of the Phantom Flame by Hong Kong filmmaker Tsui Hark.
For a time, going off to do plays wasn't part of Deng's plan - like many young actors, he was still eager to prove himself at the box office. He starred in more movies, including the critically and commercially successful American Dreams in China directed by Hong Kong filmmaker Peter Chan, and other roles that transformed him into an A-lister.
Then came his 2014 directorial comedy debut, The Breakup Guru, and the second comedy he directed, Devil and Angel. Acclaimed Hong Kong actor-director Stephen Chow invited him to star in the movie The Mermaid, one of the highest-grossing movies this year.
But Deng was uneasy.
"I could not forget how great I felt while performing in a theater. It's like a magic box - containing various emotions and carrying my dream as an actor," Deng said in a recent interview.