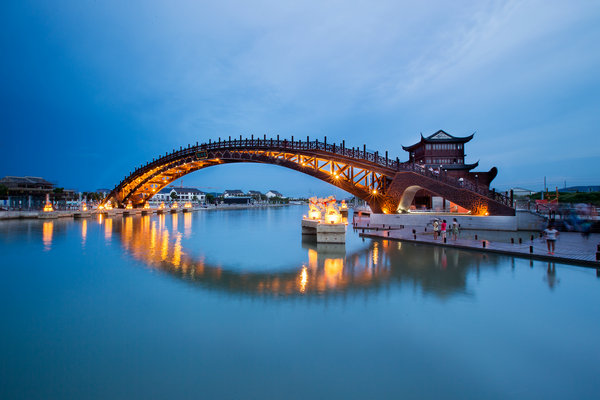 A night view of Xukou's Xuhong bridge comprising three spans, the largest of which measures 75.7 meters. The bridge is a magnificent assembly of wood blocks of more than 400 cubic meters. [Photo provided to China Daily]
A town with some 90,000 residents, Xukou is a small place. It's just one of the 15 divisions of Wuzhong, and Wuzhong is just one of the 10 district-level divisions of Suzhou. Xukou is 15 km away from the Suzhou downtown.
But Xukou's importance is much larger. If you know the story of Suzhou, which goes that in 560 BC, during the Spring and Autumn period (770-476 BC), the lord of Wu commissioned a man called Wu Zixu ( 559-484 BC) to build a city for him in today's Suzhou, you may sense some connection there0: Xukou was named after Wu Zixu. And like Suzhou, it has a history dating back to more than 2,500 years ago.
Wu Zixu is regarded by people in Suzhou as a local hero. And Xukou has his tomb and temple.
Just as a rich history has left Suzhou with a bequest of canals, streets, stone bridges, and most distinctively, elegantly built gardens, it has endowed Xukou people with a traditional gift in creating the Suzhou-style gardens and brush paintings and calligraphy.
Of course, Xukou has factories with overseas investors, like elsewhere in Suzhou. The city, as a whole, contributes nearly 60 percent of the import and export of Jiangsu province. But Xukou continues to be best known for the architecture and art its people create.