Various vintages give pu'er a changing character
It has often occurred to me that pu'er tea can be compared to wine. The green yellowish color of raw pu'er soup always reminds me of Chardonnay. The reddish-brown color of a matured pu'er can be compared to that of an aged Merlot, although mature pu'er is often even darker. And like wines, a vintage pu'er is both collectible and expensive.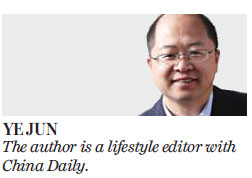 Pu'er is a big-leaf tea produced in Yunnan, especially in the Lincang, Simao and Xishuangbanna areas. Written records of pu'er first appeared in the Ming Dynasty (1368-1644). The tea is commonly packaged as a cake, brick or lump, for convenient storage and transportation.
Among Chinese teas, an ordinary pu'er is probably the best value for money. A 100-gram round lump of ordinary pu'er can cost as little as 10 yuan ($1.5) on Taobao.com. The taste is delightful and the tea usually lasts longer than the small-leaf teas from central and eastern China.
The low price is partly due to the scale of production in Yunnan. Last year the province produced 360,000 metric tons of tea, 129,000 tons of which were made into pu'er, according to statistics from the Department of Agriculture of Yunnan Province. The province's production volume ranked second in China last year, next only to Fujian.
Pu'er was granted protected place of origin status on July 1, 2009; which means only big-leaf teas produced in Yunnan can be called pu'er. Previously, Guangdong province was also a big producer.
The fresh green leaves produced in Yunnan are also made into a green tea called dianlyu and a black tea called dianhong. The major difference between Yunnan dianlyu and pu'er is that the fresh green leaves used to make pu'er are dried at low temperature (sundried), and then are steamed and pressed into cakes using molds.
There is a difference between raw pu'er cakes, which look yellowish-green, and matured pu'er cakes, which look reddish-brown. Raw pu'er cakes can go through natural fermentation and become very deep in color, but that takes a long time.