Suds of summer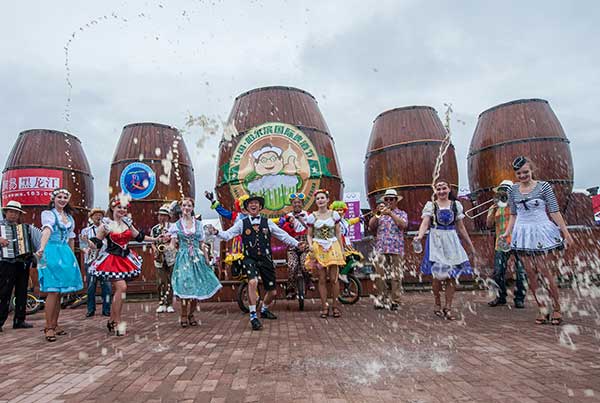 A show features performers from various parts of the world at the ongoing Harbin International Beer Festival.[Photo provided to China Daily]
If you think of Harbin only as a destination for its famous ice and snow festival, think again. The ongoing beer carnival brings out the fun in a city that appreciates the sun, Tian Xuefei and Zhou Huiying report.
The rising temperatures and agreeable weather of summer in Harbin attract tourists from all over the world to celebrate its International Beer Festival for about two weeks, through July 17.
There are 11 beer halls with different themes located in Harbin Ice and Snow World Park - an area of over 600,000 square meters. The largest one covers an area of 5,600 square meters. With that kind of space, even though more than 15,000 visitors poured through for a pour on the first day, you didn't feel the crowds. There are enough seats in each beer hall for those who want to have their dinner here.
While the festival is a high-light of the city's calendar, Harbin has a special place in its heart for beer. Harbin Brewery was established in 1900, the earliest one in China and is now among the country's largest. (The more famous Tsingtao brewing in Qingdao was founded three years later, also by German brewers.) The per capita beer spending in the city is the highest in the country.
At the festival, a choice of more than 100 brands of beer from all over the world, including the United States, Germany, Russia and South Korea, keeps the suds flowing from the 11 am opening until 11 pm, when the park closes. Besides the domestic brands including Harbin, Snow and Tsingtao, there are more than 20 foreign brands including Berliner Kindl, Krombacher, Monchshof, Baltika and Budweiser.