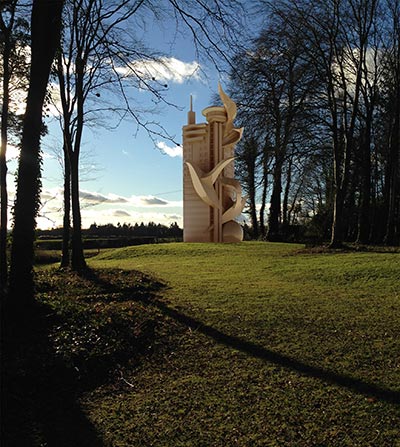 Pigeon House, Proposal Rendering by Cui Jie. [Photo provided to China Daily]
French Jesuit missionary and painter Jean Denis Attiret went to China in 1737 and became a court painter of Emperor Qianlong of the Qing Dynasty (1644-1911).
During his decades-long stay in China until his death in 1768, Attiret was impressed by Chinese gardening art and phrased a term, "beautiful disorder", to describe the theatrical framing devices of Chinese gardens that provoke opposing sensations in viewers.
The term has been borrowed by curators of an ongoing exhibition at the venue of Cass Sculpture Foundation, in West Sussex, southern England.
The outdoor exhibition A Beautiful Disorder displays dozens of sculptural installations by 18 Chinese artists as new commissions for the foundation, a nonprofit organization established in 1992 by Wilfred and Jeannette Cass.
The huge works are merged into a picturesque environment of England's countryside. They show the dynamics of creation of up-and-coming Chinese artists, and examine how they view the relationship between China and the world in past, present and future.
Participating artists include Xu Zhen, Cheng Ran, Lu Pingyuan and Zhao Yao who are working with various mediums and daringly touch upon China's social issues.
The exhibition runs through Nov 6.
Related:
China, France sign pact on art management college