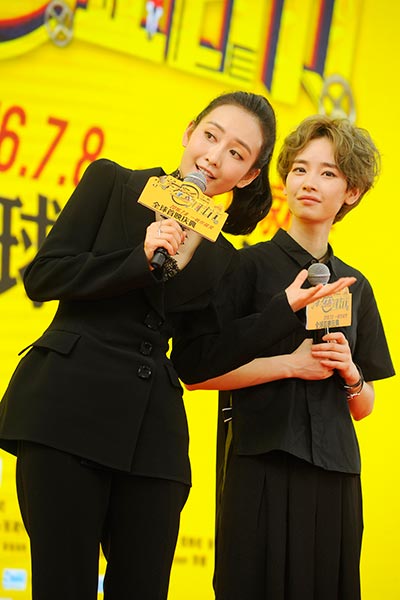 Actress Wang Ou (left) and Liu Yase. [Photo provided to China Daily]
Don't conflict with the prop makers. As the magicians behind a film, they know hundreds of tricks to cheat you.
In the crime thriller Foolish Plans, three unknown prop makers use their wit and craft to fight against an evil gangster group, which utilizes filmmaking and antique auctions for money laundering.
At the helm of the emerging director Jiang Tao, the feature will be simultaneously released in China and the North America on July 8.
The theatrical releases in the United States and Canada are mainly for Chinese expats, according to the Chinese producers. In addition, the distributors have cooperated with 20 Chinese students' associations in North America to promote the movie.
"We'll also promote the film in some local tea stores or hotpot restaurants, where Chinese are their major customers," revealed Chen Dengwei, chairman of the film's investor, Beijing Holder New Media Copyright Investment Corporation Ltd.
The cast, despite a bit less-known to common moviegoers, has a high reputation for the youngsters.
The leading actors, Wang Ning and Xiu Rui, are both familiar faces from the hit online series Two Idiots. Since the four-season series aired on streaming sites iQiyi.com and PPS.tv in 2014, it has accumulated up to 2.2 billion views.
Wang Ou, the leading actress, is known for Nirvana on Fire, China's most populous TV series last year.
Related:
'Born in China' due for release on Aug 12