New Beijing venue elevates chain's hotpot experience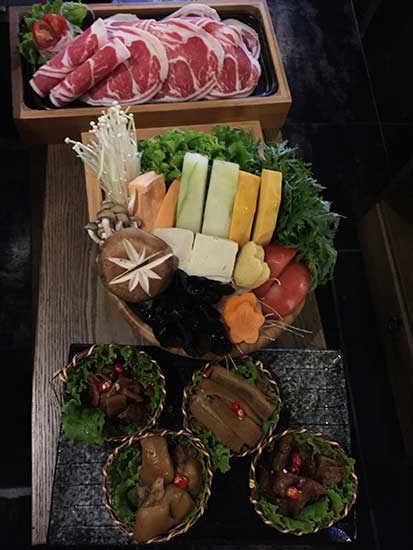 The newly opened CouCou in Beijing offers hotpot and tea culture elements of a medium to high end range.[Photo provided to China Daily]
Business at Xiabu Xiabu's recently opened sibling CouCou seemed brisk even before it officially began operations on the last day of June.
The new restaurant, the first of its kind under the giant restaurant chain, offers hotpot and tea-culture elements of a medium - to high-end range. The average cost per person is 120-150 yuan.
The dimly lit setting, wooden partitions and flowing evaporating steam make for a cooling environment and create a strong sense of privacy. The soothing ambience seemed to magically dissipate the heat from the boiling pots.
Soup offerings include Taiwan-style spicy, lamb spine, beef shank with tomatoes, Sichuan-style numbing spice and mushroom. We opt for beef shank with tomatoes and Taiwan-style spicy bases, and we're surprised at how much treasure is hidden under the bubbling surface.
Don't be fooled by the dark red color of the Taiwan-style soup: It won't paralyze your tongue and make you jump up and down the way Sichuan and Chongqing hotpot can do. Instead, the soup offers a slight tingle.
Big chunks of translucent beef tendons are immersed in the tomato-red soup and emerge soft but resilient. We stew thick slices of tofu and duck-blood bean curd in the darker, spicier broth in the other half of the soup pot.
I try handmade Da Hong Pao (a rock tea from Fujian's Wuyi Mountain) with no syrup and no ice, and a special Taiwan drink integrating white gourd and black tea. Both were very refreshing and complemented the meaty and slightly oily hotpot foods.
The noodle-like spinal cord of deep-ocean cod is an eye-opener, served in a bowl on a bigger plate filled with flowing white smoke. It melts in the mouth and carries no unpleasant fish odor. Our server says it's full of collagen and thus a dream food for girls who long for fair skin.
One 50g portion of spinal cord requires 150 kilograms of deep-ocean cod, which is in limited supply and thus not always available.
The scampi from New Zealand steals some limelight from the hotpot feast, because I don't put it in the pot but eat it raw - it is delightfully sweet with an edge of salty seawater.
The servers point out that the beef rib-eye slice is bigger than an iPhone 6 Plus. Its thickness is perfect for cooking in the broth, and it's tender and delicious when we fish it out.
The seafood "lollipops" made of ground fish and shrimp mixed with fennel and carrots were springy, with very little starch added.
Just like the owner promised, I don't leave with a nasty hotpot smell, which might be proof of the soup's natural herbal ingredients or the restaurant's very good ventilation system. Either way, it's a nice dining experience and a bold break from its Xiabu Xiabu siblings.
If you go
CouCou
3/F, Tongying Center in Sanlitun, Chaoyang district, Beijing. 137-1658-7003.