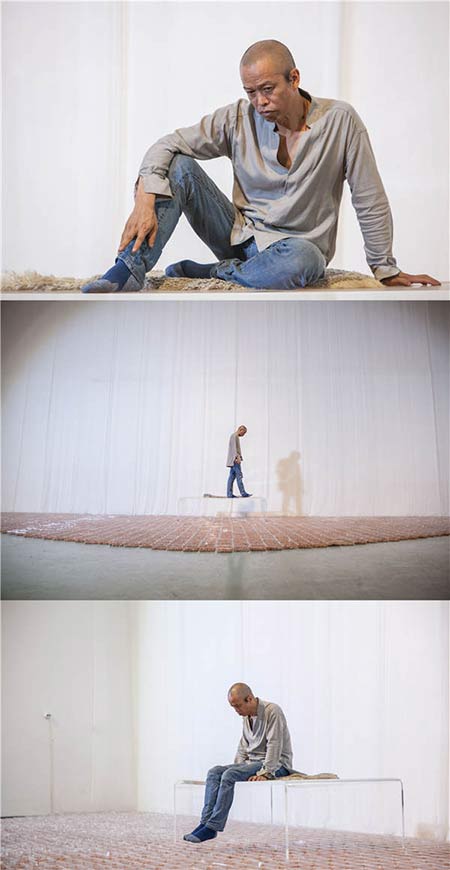 He Yunchang in his 72-hour-long performance called Longevity Nut in Beijing. Photos Provided to China Daily
He Yunchang has three obsessions - unusual art, cigarettes and video games.
The first defines his work, while the second and third can be considered his life-style. He has developed varicose veins from playing online games for hours. What's more? He isn't interested in getting treated. "The doctor said I needed 10 injections. It's a headache."
But he embraces pain, both physical and mental, while creating as long as it doesn't kill him, which he says is the "bottom line" of performance art, his field. Agonies of varying degrees are the hallmark of his output.
The 49-year-old Beijing-based artist exhibits a self-tortured style of performance and sells related photos, videos and paintings.
His latest work is a 72-hour-long performance called Longevity Nut staged at a grand retrospective of his art, titled A Chang, currently on at Beijing's Today Art Museum.
At the exhibition's opening on July 8, some 250 kilograms of peanuts that had been soaked in water for days were put in containers on the ground and covered with a sheet of gauze.
In the middle stood a plexiglass table on which he spent the following three days, waiting for the peanuts to sprout - once germinated they are called "longevity nuts" in China because of their health benefits.
He neither ate or drank but survived on a method of qi gong fasting.