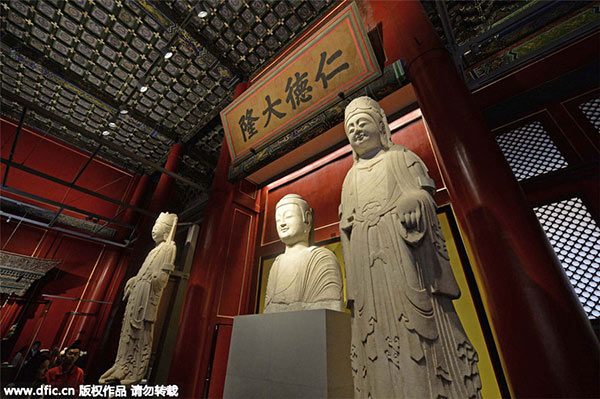 Stone statues from the Northern Qi Dynasty (AD 550-577) is on display at the Cining Palace in the Palace Museum in Beijing, October 8, 2015. [Photo/IC]
The Palace Museum in Beijing is poised to transform its exhibition layout over the next four years, which will be the largest alteration on exhibits in its history, the curator of the museum Shan Jixiang revealed on Monday.
The western pathway from Duanhong Bridge to the icehouse will be open on September 29, while the royal icehouse, Imperial Kitchen (Yu Shan Fang), and Yuqing Gong, where the crown prince lived, will open later. During this year's National Day holiday, visitors will be able to choose from a larger selection of tour routes.
"Cultural relic hospital" will be open before the end of this year
The Palace Museum will open three more routes before the end of the year. One of them leads to the cultural relic restoration room, which is also called "cultural relic hospital", where tourists can observe the process of cultural relic repair. After each relic is "cured", a detailed "case report" will be made to clearly record its life course.
The west side pathway can directly lead to the royal icehouse, which can accommodate 400 people dining at one time, and a platform to view the Jiangshan mountain from afar will also be opened.
"The opening of new pathways increases the opening area, and meanwhile the exhibition layout will be quite different too", Shan Jixiang revealed. The Ancestral Worship (Fengxian Dian) originally used to showcase timepieces will exhibit bronze wares from Shang (1600 BC–1046 BC) and Zhou (1046–256 BC) dynasties, as a way to present sacrificial culture, and make the exhibits coincide with the architectural theme. The Wuying Dian (Hall of Martial Valor), after exhibiting paintings and calligraphy for seven years, will exchange exhibits with Hall of Literary Glory (Wenhua Dian) which exhibits porcelain.
Six palaces at the backyard of the Forbidden City prepares more display
"We plan to hold exhibitions related to imperial life here", Shan said. The Yongshou Palace, where concubines lived during the Ming (1368-1644) and Qing (1644-1911) dynasties, will display traditional Chinese medicine and food left by the Qing royal court, as well as daily use articles and toys from ancient emperors' childhood. The Imperial Kitchen (Yu Shan Fang) will showcase royal cooking utensils.
The opening section of city wall is likely to be increased
Shan said the Palace Museum would launch a systematic project of repairing Forbidden City wall, featuring the first time ever. Shan said that the museum plans to open a new section of wall next year, providing visitors a new viewing platform. As the exit of the touring route, the Gate of Divine Prowess (Shenwu men)'s exhibition hall will add a second layer, and repair exhibitions will be staged each year in future.