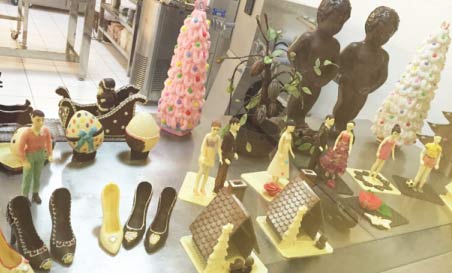 Chocolates in various sizes and designs are on display at Aficion in Hangzhou. Yang Feiyue / China Daily
The smell of cocoa wafts to my nose the moment I set foot on the red-bricked, European-style building.
Nuts, mint, milk powder, cocoa and other ingredients for chocolates tempt me in a 150-meter-long gallery. I stop at the fountains dripping white and dark chocolate, and I dip a biscuit into it. Delightful!
Through a window, I can see an entire chocolate production line operating one floor below me.
"Visitors can watch the whole chocolate-packaging process and enjoy different chocolates along the way," says Mo Xuefeng, general manager of Aficion, which boasts of being China's first chocolate plant offering chocolate-themed fun.
Outside, a colorful windmill, a sea of blossoms and big stone pillars form a pretty picture under the blue sky and white clouds.
Located in Jiashan county, Zhejiang province, the chocolate plant covers an area of 28.6 hectares.
The idea is to let customers not only enjoy chocolates, but also see how cocoa beans are turned into wrapped candies, learn the culture and have fun, says Mo.
Mo didn't take over his father's successful packaging business after he finished his master's program in finance at Boston University in 2011.
His childhood love of chocolates spurred him to choose the dark sweet as his career.
"My mother would always prepare some chocolates for my father, who was busy with his business and often forgot to eat," says Mo.
He began to pay attention to the chocolate industry during his time abroad and spent two years visiting foreign chocolate factories.