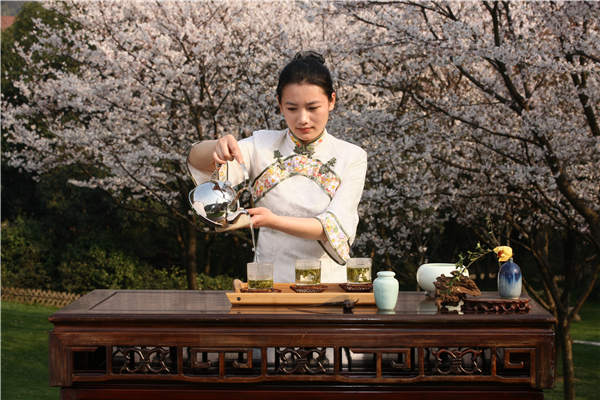 A tea ritual is performed in the museum. Photos provided to China Daily
Tea is Hangzhou's lifeblood, and the way it seeps into social life has been celebrated for centuries. Deng Zhangyu and Erik Nilsson report.
Longjing tea infuses life in Hangzhou, in every sense.
The light brew exerts a heavy influence over the city's mentality.
Consequently, Zhejiang's provincial capital is also known as China's "tea capital".
Poet Xie Lingyun brought tea to the city 1,500 years ago, and its West Lake area has since sired Longjing tea, one of the country's most famous varieties.
Longjing is green gold. Actually, premium picks have sold for more than an equal amount of the precious metal.
It was officially listed as an imperial tea by Emperor Kangxi (1654-1722). His grandson, Qianlong (1711-99), designated 18 plants as imperial trees. (At least according to lore.)
These trees still stand in what's today the Imperial Tea Garden, just up the road from Longjing village's China National Tea Museum.