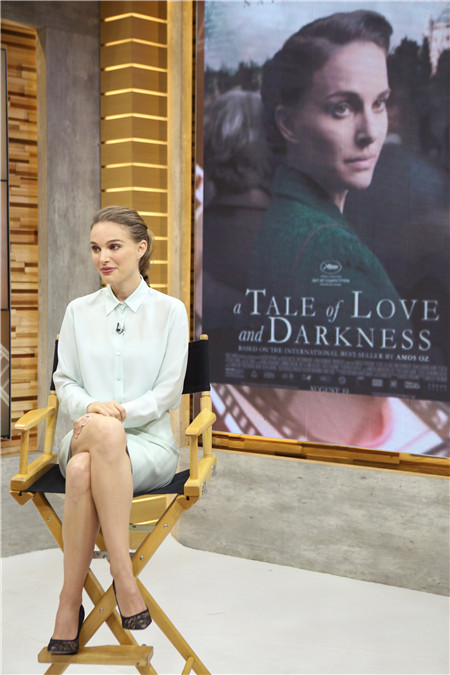 Natalie Portman is a guest on Good Morning America, airing on the ABC Television Network. [Fred Lee/ABC via Getty Images]
Award-winning Hollywood actress shares the story behind her directorial debut.
"It's like, I guess you caught me! I'm a nerd!" Natalie Portman says, laughing.
She's talking about frenzied internet responses to a recent interview that she did with author Jonathan Safran Foer. The New York Times Style Magazine asked Foer to interview Portman about her directorial debut, A Tale of Love and Darkness. They weren't in the same city, and thus did the interview over email, which the magazine then coyly presented as actual emails between the two friends.
The internet was confused. Onlookers smirked at the literary and occasionally pretentious words and thoughts exchanged between the two as though they'd stumbled on something private and deeply embarrassing.
"It was clearly for an interview," Portman says. "I can understand that it would seem funny if those were our normal 'hey Jonathan, what's going on' emails, which is not the case at all ... It's not what we write on a Tuesday afternoon. Obviously."
Portman, seated on a couch in the sun soaked living room of the Beverly Wilshire Hotel's Royal Suite, tries not to pay attention to all of that. She knew it had become a thing when friends told her about it, but she's not concerned. For one, it did what it was supposed to do: get some attention for A Tale of Love and Darkness. And the only semi-real discovery she can think of is that, well, she's a "nerd".
This shouldn't be a surprise to anyone even remotely familiar with Portman, who gracefully transitioned from precocious child star into Oscar-winning adulthood, while still prioritizing intellectual pursuits and maintaining a healthy remove from the celebrity of it all.
Now 35 and a mother, Portman lights up discussing the evolution of the Hebrew language as much as she does her recent films. This is one of those moments, too, when she suddenly has a handful of projects being released, even though many were shot years ago, like Knight of Cups and Jane Got a Gun. She's also got the forthcoming Jacqueline Kennedy biopic Jackie, which will have a festival debut this fall, and there are even more on the docket for 2017, including Alex Garland's Annihilation and Xavier Dolan's next project.
But the one closest to her heart is A Tale of Love and Darkness, in theaters now. It's a passion project if there ever was one. Portman's been working this adaptation of Amos Oz's memoir for the better part of a decade, about the author's childhood in the 1940s and 50s, the birth of the Jewish state and the loss of his depressive mother, who Portman plays.
"(Amos) was very encouraging to me," she says, "He said 'please make your own film. The book exists. You don't need to just film the book.'"