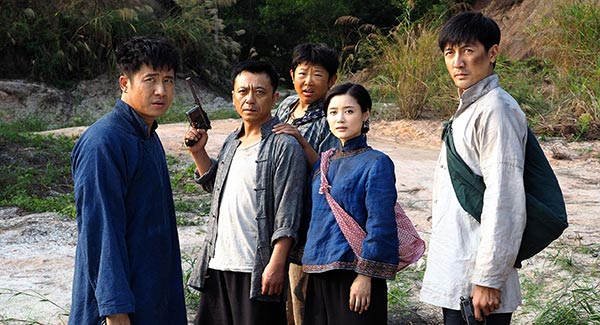 A scene from The Battle before Dawn. [Photo provided to China Daily]
Dongjiang Column, one of the major forces fighting against Japanese invaders in southern China from 1938 to 1945, inspires a new hit TV series.
The Battle before Dawn, a 40-episode series, is based on the story of the legendary troop in Guangdong province.
The series has run on Beijing Satellite TV since Sept 14.
Five Chinese intelligence agents — all members of the guerrilla force — risk their lives to deliver confidential informations, as the director Ba Te'er revealed the storyline in a recent news conference.
"We've tried our best to being faithful to the history, as well as adding some twists for modern appeals," he said.
The protagonist star, Zhang Guoqiang, practiced his tongue on speaking Mandarin with Cantonese accent.
Zhang Luyi, playing one of the five agents, said big-explosion scenarios had been the largest challenge for the cast and the crew.
Related:
'Veep's Julia Louis-Dreyfus wins again as Emmys gets political