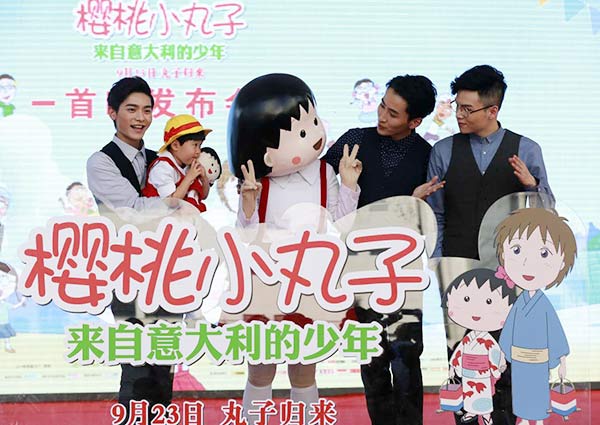 Up and coming stars Zhu Xingjie, Luo Mingjie and Yang Gen promote the movie. [Photo by Feng Yongbin/China Daily]
Chibi Maruko-chan, one of the most familiar Japanese animated characters to Chinese fans, will soon open in Chinese theaters, the first ever such release.
Chibi Maruko-chan: The Boy from Italy, the new feature-length film based on the titular character's comic series, bows on September 23. The last time the series had a cinematic remake was 23 years ago.
Volumes of the original manga series, first released in 1986, have been published 14 times between 1987 and 1996. In 1990 the books were the first to be adapted to an animated TV series, which soon topped the local ratings.
In the new movie, the friendly elementary school girl Chibi Maruko-chan rents her home to six foreign students, but finds one among them -- a boy from Italy-- has chemistry with her.
The Japanese film is introduced by the China Film Group and translated by August First Film Studio, and promoted by iQiyi Motion Pictures, the film arm of the video-streaming site iQiyi.com.
Up-and-coming stars Zhu Xingjie, Luo Mingjie and Yang Gen, who all shot to fame in iQiyi's self-made reality show King of Pop, promoted the upcoming movie in a Beijing primary school on September 20.
Zhu says the Chibi Maruko-chan franchise is part of his childhood memories.
"She wakes up later every morning and is pushed by mother to hurry to school. She is curious, rebellious, but heart-warming. Most of the naughty, embarrassing moments depicted in the series are those what really occurred in daily life, which resonates with us," Zhu said.