A British and French food fight in Beijing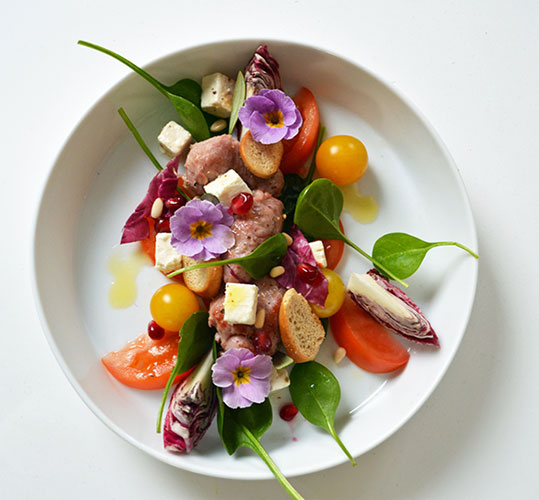 French chef Cyril Rouquet-Prevost introduces French food to Chinese people in a way that highlights its lighthearted and uncomplicated side.[Photo provided to China Daily]
He's waving a French flag, and throwing little Eiffel Tower key chains to the audience.
Suddenly, he bursts into song, with a rendition of Edith Piaf's La Vie en Rose, accompanied by a tiny crank music box.
French chef Cyril Rouquet-Prevost is something of an ambassador for his country-particularly its food-but he's surely having more fun than the average diplomat.
One way he tells the story of his country's cuisine is through a long-running, humorous cooking "duel" with British chef James McIntosh.
The Brit dismisses French food as pretentious, and the Frenchman expresses mock astonishment that there might be such a thing as British cuisine.
The two kept an audience laughing at the recent Beijing International Book Fair, where they prepared a series of dishes together onstage at the fair's show kitchen-including a mango dessert famously prepared for Queen Elizabeth II.
Once he was done with his own presentation, Rouquet lingered in the show kitchen to assist other chefs with their own demonstrations, including Malaysia's Chef Wan, with whom Rouquet had previously worked with to cook for the Queen of Malaysia.
Though Rouquet proudly represented French cuisine, he also embraces Chinese culture.