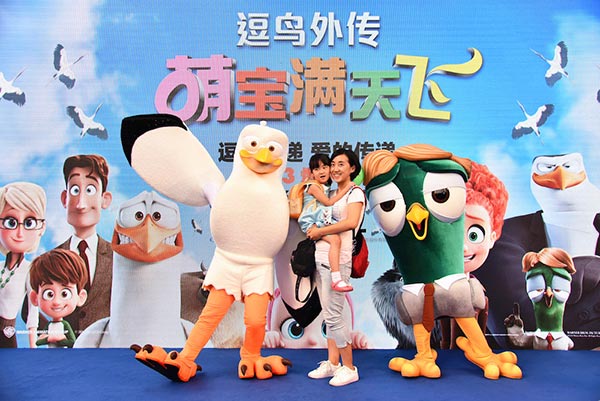 The Beijing promotional event of Warner Bros' forthcoming animated comedy Storks. [Photo provided to China Daily]
Storks deliver babies. Sounds fantastic?
Warner Bros' upcoming animated movie Storks is a new twist on the mythologic concept of storks delivering babies.
A preview screening was held in Beijing on Sept 17. Most of the viewers gave thumbs up to the innovative settings.
The film is directed by Nicholas Stoller, who is known for the 2008 comedy Forgetting Sarah Marshall, and Doug Sweetland, the lead animator of the Oscar-nominated Boundin.
The tale narrates around a fairy tale-like world where a girl accidentally activates the baby-making machine. She teams up a delivery stork to embark on a journey to send the baby to her family.
Its Chinese-dubbed cast recruits the local voice actors who dubbed Disney's hit Zootopia.
As the only Hollywood animated film introduced to China in September, Storks will be released on the Chinese mainland in the formats of 3-D, Dmax, and Imax 3-D on Sept 23.
Related:
China's holiday box office sales total $76m
Sino-US co-production 'A Children's Song' attracts world's attention