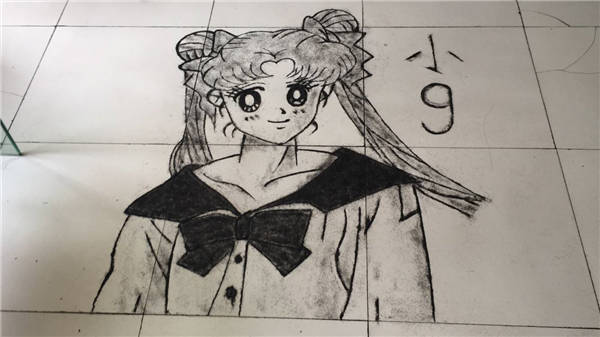 One of Wang Xiaojiu's favorite portraits. Photos by Ding Luyang/Provided to China Daily
A hair stylist in northeastern China has found a novel way of using all that hair-by making art.
Wang Xiaojiu started working as a barber 16 years ago, but he didn't hit upon his idea until late last year when he decided to write out 2015 and his nickname, "Xiaojiu" (Little Nine), with hair from the floor of his shop.
Photographs of the artwork he uploaded to WeChat, the social media app, received such a warm response from his friends that he made another picture of a monkey to mark the Chinese Lunar New Year.
"From then on, I fell in love with the art," Wang said at Xiaohe Barbershop in Jilin, in Jilin province. To demonstrate his point, he used a small card and a brush to form the Chinese characters for China Daily on the floor.
Using only hair, he has created portraits of kung fu star Bruce Lee as well as fictional characters such as Iron Man, the Monkey King, Sakuragi Hanamichi and Sailor Moon.
"It takes me two to three hours to finish a portrait," he said. "The most difficult part is the delicate lines, which can only be done with a small brush. "You have to keep all the doors and windows closed to prevent a breeze from disturbing the hair."