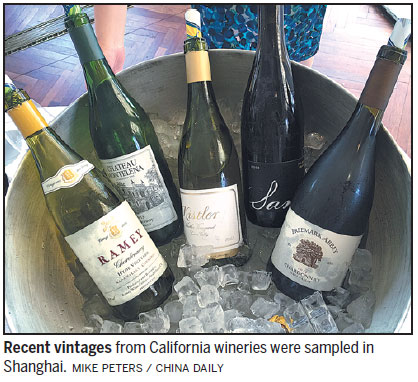 On a recent Sunday, there was a lot of spitting going on at one of Shanghai's most sophisticated restaurants. That's because the California Wine Institute had gathered some of China's most sophisticated palates to taste 26 top chardonnays and cabernet sauvignons.
The event celebrated the 40th anniversary of the Judgment of Paris - a 1976 blind tasting of wines that pitted a bunch of then globally unknown US winemakers against France's benchmark vintners.
Incredibly, the 1973 cabernet sauvignon from Stag's Leap Wine Cellars in Napa, and the 1973 chardonnay from Chateau Montelena in Calistoga were judged superior to any French wine in the tasting.
"I changed the rules at the last minute and made it a blind tasting," says British wine guru Steven Spurrier, a wine merchant in Paris at the time who organized the tasting 40 years ago.
"When the results were tallied, of course the French judges were shocked," Spurrier says with a chuckle.
"They had to go to California and see for themselves," he says. "What they found was a lot of passion - and money - for winemaking in California. Both had been in short supply in France for a while."
Spurrier himself wasn't surprised - he'd already been to California after hearing rumors about the growing wine scene there.
"But they weren't really interested in outsiders then," he tells China Daily. "When I called and told them I was coming, they couldn't really understand why some English guy would want to do that."