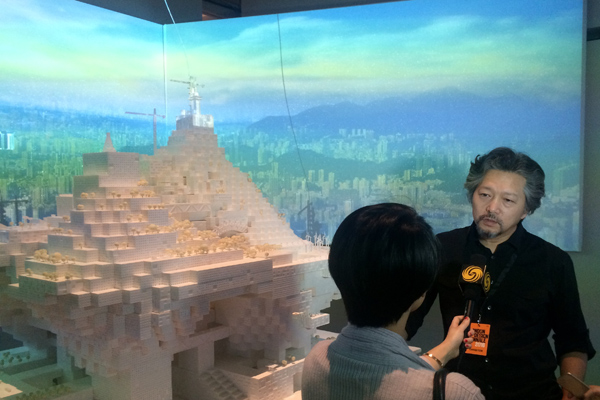 Liu Xiaodu, founding partner of Urbanus, explains the concept for his design. [Photo provided to chinadaily.com.cn]
Few cities have grown as rapidly as Shenzhen. A quiet fishing town of 30,000 in the 1970s, its population has mushroomed in the past three decades to more than15 million.
This growth, boosted by its designation as China's first special economic zone in 1980, has seen Shenzhen become an important economic hub in southern China.
However, the city faces mounting challenges in dealing with urban congestion.
Liu Xiaodu, founding partner of architectural company Urbanus, believes cities such as Shenzhen will benefit from a radical new approach to urban planning, centered around high-density, communal living spaces.
"We are running out of land," he said. "We have to think of alternative ways, rather than building endlessly... The world is changing. People are moving toward co-living, co-working areas. Younger people are starting small businesses and working in shared spaces. I think the old, conventional way is not suitable for them-it's very expensive and not flexible."
Liu is exhibiting a model megastructure named DenCity at this year's London Design Biennale. The installation is China's entry at the design fair, which showcases 37 "visions of Utopia".
Other visions come from design teams worldwide, and this year's theme marks the 500th anniversary of the publication of Sir Thomas More's seminal book Utopia.
Sir John Sorrell, chairman of the biennale, said, "I believe that the installation that has come all the way from Shenzhen is a very intelligent piece of work."
DenCity imagines an enormous structure that could house 50,000 people who live, work and spend their leisure time in the self-sustaining building.
Liu said: "New ideas are needed to solve the problem of urban congestion. In Shenzhen's high-tech area, new young talent is coming to work in tech companies and it needs living space.
"Land is very costly-what we propose is to double the density of a regular development project. With higher density and less spending on land, rent is cheaper."
Liu and his team draw inspiration from ancient forms of Chinese living and apply them to modern architecture. In 2009, Urbanus completed Tulou, a 220-apartment housing complex for people from low-income families in Guangzhou, Guangdong province.