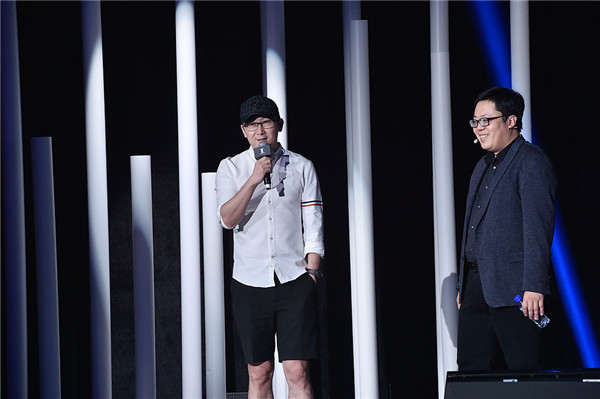 Director Lu Chuan (left) reveals details about his new fantasy movie with Tencent Pictures. [Photo provided to China Daily]
Most people take it for granted that making a science fiction film must be expensive because of its digital effects.
But Tencent Pictures, the film arm of internet giant Tencent, recently said it is exploring the possibility of making a low-budget sci-fi movie.
Titled Path Finder, the forthcoming flick features in the latest lineup of 21 movies and television series to be made or co-developed by Tencent Pictures.
A Chinese twist on the Star Trek franchise, the movie is based on its popular namesake online comic book, which follows a group of Chinese adventurers who explore space.
The book, which is still being updated online, has accumulated nearly 140 million clicks and has 9.1 points out of 10 on Ac.qq.com, Tencent's website specializing in comics.
Film critic-turned-newbie director Zhang Xiaobei says his maiden work has a budget of a few million yuan-a fraction of a typical Hollywood sci-fi movie.
A sci-fi fan since childhood, Zhang, 41, has always been fascinated by Star Wars and also loves Alien and Blade Runner.
A key issue for the director is whether he can find a Chinese way to make sci-fi movies.
Hollywood has a long history when it comes to such films, but the genre has developed mainly during the past decade in China.
A widely held view is that Chinese filmmakers do not have the appropriate technology or the budgets to make such movies.
"So, the solution is to explore a new way-unlike the formula typically followed by Hollywood," says Zhang.
He says Path Finder will stress roles, emotional bonds and the characters' humanity.
"Emotions, such as fear and love, are universal and appeal to audiences regardless of nationality or language," he says.
The script has just been revised and digital sets are being worked on. Filming is expected to start early next year.
Path Finder, incidentally, is not the only low-budget Chinese sci-fi film on the way.