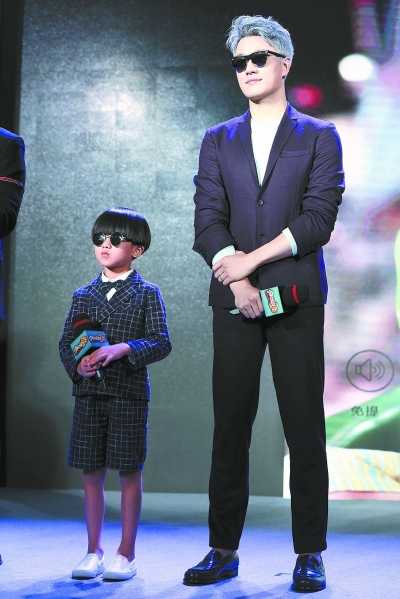 Tong Dawei (R) promotes his new film at a press conference in Beijing on Wednesday. [Photo/Beijing Evening News]
Chinese mainland actor Tong Dawei, who is already the father of three young children, is going to be a grandpa. This did not happen in real life but in a comedy film named Scandal Maker or Wai Gong Fang Ling 38.
Tong Dawei co-stars with Taiwan actress Michelle Chen, who is newly married and pregnant.
"I've watched her previous movies and got some feelings after watching those movies. I convey it through this upcoming film Scandal Maker."
Scandal Maker tells the story of a popular radio DJ He Zhiwu portrayed by Tong Dawei and his sudden encounter with a single parent portrayed by Michelle Chen.
Tong Dawei disclosed some details during their filming.
"What impresses me most is a scene in which both of us got drunk and freely unleashed our feelings. Our dialogue in shooting that scene touches upon such topics as the martial art novel "The Legend of Condor Heroes" and Shanghai's local flavor---small steamed dumplings."
Directed by Ahn Byung-Ki, the Chinese film Scandal Maker is a remake of a South Korean comedy film. In the film, the main character He Zhiwu's apartment doorbell rings and a young lady appears with her son. The woman tells the 38-year old He Zhiwu that he is her father and he is also the grandfather to her son.
Mainland actress Wen Xin and actor Wayne Liu Binglin also act in the film, which is due for release in Chinese theatres on November 11th.