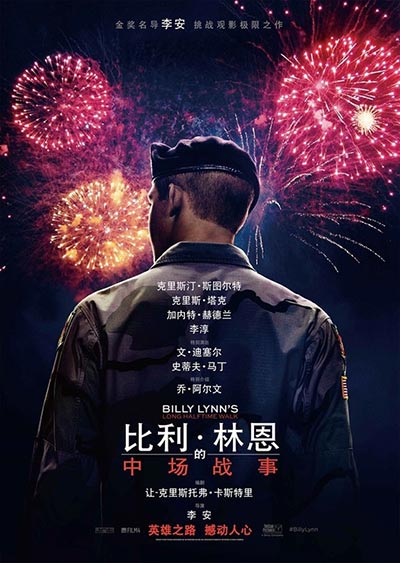 A poster for Ang Lee's new film Billy Lynn's Long Halftime Walk. [Photo/China.org.cn]

Beijing finally has a theater to show Ang Lee's groundbreaking new film Billy Lynn's Long Halftime Walk, but most of the potential audience will not be able to witness this visual miracle.
The Bona Cinema in U Town Mall, in eastern Beijing's Chaoyang District, is upgrading the equipment in one of its theaters so as to be able to show the original high-definition film. The price is not known but audiences may have to line up a long time to get one admission ticket.
Billy Lynn is the first full-length narrative film shot in 4K, native 3D at the ultra high rate of 120 frames-per-second. A theater must be specially equipped with the technology to screen the innovative feature in its intended format.
A presentation of an 11-minute sequence from the film in its native format was a hit at the National Association of Broadcasters trade show in Las Vegas in April, when the Las Vegas Review-Journal's Christopher Lawrence wrote: "In a nutshell, the higher the frame rate, the closer an image looks to real life. During Saturday's demonstration, the depth of field was staggering, almost as though the back of the screen had opened up. Actors often seemed to emerge from the screen, hologram style. Co-star Vin Diesel never looked more lifelike."
However, most Chinese audiences currently have little chance to see the novel format due to the high demands of special equipment.
Lee said in an interview with Taiwanese media in early September that the film had humbled him as a veteran filmmaker. "The filming process was extremely painful," Lee said, "it was the unprecedent filming experience and we had to deal with issues in unexpected areas with no precedents to follow."
Billy Lynn's Long Halftime Walk is based on Ben Fountain's 2012 novel. The story follows a young soldier, Billy (Joe Alwyn), who is brought to a Dallas Cowboys game where he and other members of his Army unit will be honored for their service. Vin Diesel, Garrett Hedlund, Kristen Stewart, Steve Martin, and Chris Tucker are among the large prestigious cast.
Lee said he would use the same format and scale for his next film, Thrilla in Manila, about the third and final chapter in the boxing confrontation between the late Muhammad Ali and Joe Frazier.
The world premiere of Billy Lynn is set for the New York Film Festival on Oct 14 and will be screened nationwide in the United States and other international markets from Nov 11. The Chinese release date has yet to be set.
Related:
Ang Lee's 'Billy Lynn' to premiere at NYFF