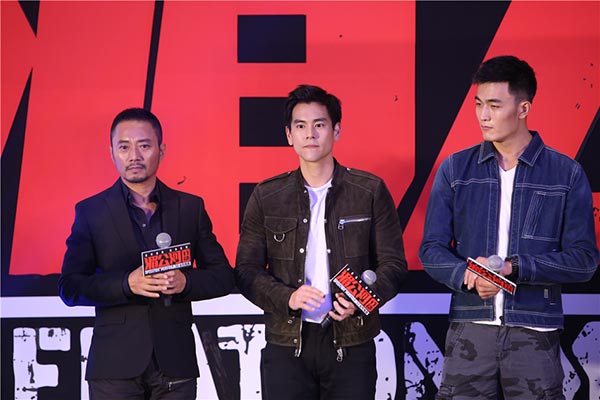 Cast members Eddie Peng (center), Zhang Hanyu (left) and Chen Baoguo. [Photo provided to China Daily]
A preview of the new movie
Operation Mekong
, which is based on a real massacre, was shown to nearly 1,000 Chinese police officers on Sept 25 in Beijing.
Heroin smugglers operating in the Golden Triangle area of the Mekong River killed 13 Chinese sailors on Oct 5, 2011.
The movie re-creates the Chinese forces' painstaking manhunt for a drug ring from Myanmar.
In a trailer released earlier, the movie's Hong Kong-based director Dante Lam said: "We wanted to do justice to the victims."
To understand the events of that fateful day, the movie's crew toured many areas along the Mekong that crosses six countries.
With the star-studded cast of Eddie Peng, Zhang Hanyu and Chen Baoguo, the movie will be released on Sept 30.
At the preview, Zhao Chengfeng, a police officer who was on the team to track down the drug ring, praised the actors who performed the roles of cops.
Related:
Chinese film market slows pace, focuses on quality
Golden Rooster and Hundred Flowers Film Festival held in Tangshan