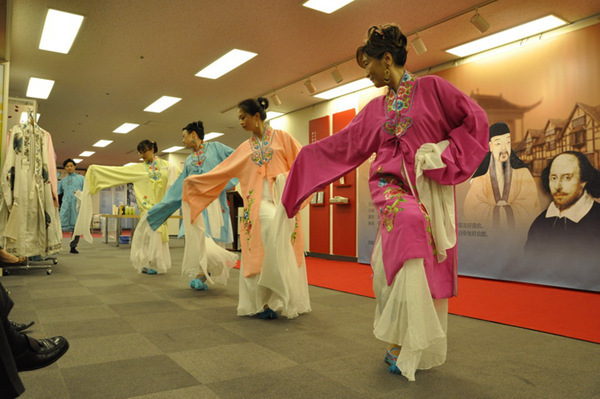 Japanese women swing their long sleeves in the same direction. [Photo/Chinaculture.org]
Two literary giants from China and Britain are being honored in an exhibition to mark the 400th anniversary of their deaths.
Dialogue across Time and Space at the China Cultural Center in Tokyo pays homage to Tang Xianzu and William Shakespeare, who died in 1616. The exhibition opened on Sept 21.
The opening ceremony was attended by Japanese from all walks of life. Among them were a government official, a congressman, representatives of the China-Japan Friendship Association, and a fashion designer. It also grabbed the attention of multiple media outlets.
Distinguished guests warmly addressed those at the opening ceremony. Then artist Lu Hairong from the Shanghai Kunqu Opera Troupe briefed the audience on Kunqu Opera's development and the great playwright Tang Xianzu's life story and works. He elaborated on Kunqu Opera's music, singing, costumes for different characters, gestures and postures, as well as the distinction between Kunqu Opera and Beijing Opera. He also personally demonstrated how to put on a costume for a martial role and performed an episode of Crossroads. The ceremony was taken to a whole new level when guests gave their own performances in opera costume.
The exhibition is divided into three parts: Time and Legend, Dream and Reality, and I @ Tang Xianzu. It allows the charm of Kunqu Opera to speak for itself.
Several people in attendance said they thought highly of the exhibition. They deemed it exquisite and informative on Eastern and Western cultures. In particular, the virtual reality experience at the exhibit brought Chinese literati's studies and living settings right in front of their eyes. It was so real that they felt they almost lived in that age.
Sponsored by the Ministry of Culture, the exhibition was jointly organized by the Centre of International Cultural Exchange and China Cultural Center in Tokyo. It was scheduled to wrap up by the end of September.