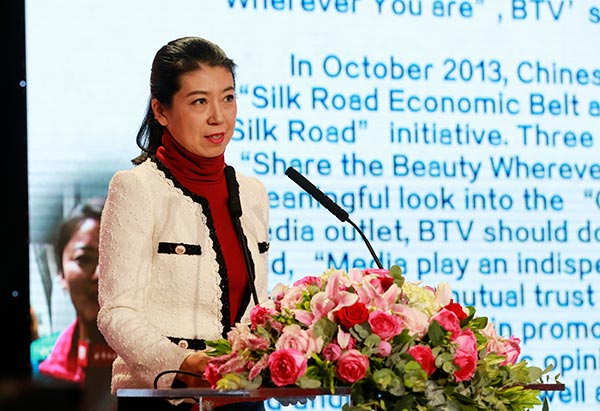 Ai Dongyun, deputy editor-in-chief of BTV [Photo by Feng Yongbin/China Daily]
A television news program reporting on stories along the "Belt and Road Initiative" routes began airing on several channels of Beijing Television (BTV) on Oct 15, and will run through Dec 31.
Titled "Share the Beauty Wherever You Are", the program has sent more than 40 journalists, divided into five groups, to cover stories in 33 countries along the Silk Road Economic Belt and the 21st Century Maritime Silk Road.
The countries, such as Mongolia, Russia, Germany, France and South Africa, cross three continents from Asia to Africa to Europe.
Ai Dongyun, deputy editor-in-chief of BTV, says the program focuses on reporting the achievements in infrastructure projects, trade and communication, since President Xi Jinping proposed the "Belt and Road Initiative" in 2013.
Emotional, personal stories that took place on the routes will be reported through a big picture of China's international strategies.
Cutting-edge technology, such as an unmanned aerial vehicle to capture panoramic views, will be implemented during the program, says BTV host Zhang Mo.
Karntimon Ruksakiati, charge d'affaires of the Thailand Embassy, says the program will enhance communications and links between the two countries.