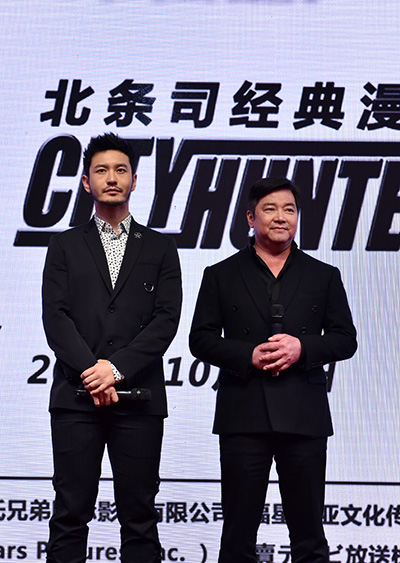 Actor Huang Xiaoming (left). [Photo provided to China Daily]
The IP (intellectual property) of Tsukasa Hojo's most popular book series,
City Hunter
, has been acquired by Estar Media, a Chinese company founded by Chinese actor Huang Xiaoming.
Huang announced the deal in Shanghai on Wednesday.
The first project will be a movie adaptation, which will see Huang in the leading role of Ryo Saeba, and Stanley Tong as the director.
Tong is known for working with Jackie Chan in the 1990s, such as in the action movies Rumble in the Bronx and Police Story series.
Japanese manga artist Hojo published the City Hunter book series from 1985 to 1991, which became among the best-selling works in Japan.
Following the story of the private detective Ryo Saeba, the books have been adapted into TV animations, video games and movies. Similar to the James Bond series, the stories revolve around crime and love affairs.
In 1993, a Hong Kong action movie with the same title was directed by Wong Jing and starring Jackie Chan.
According to Huang, who calls himself a big fan of City Hunter books, he will pay tribute to the classic book series by producing TV series, theater plays and video games over the next seven years in addition to the movie.
The 38-year-old actor and entrepreneur founded his own investment firm, Ming Capital, in April this year, going for businesses in various fields, such as technology, hospitals and fitness.
Born in Qingdao, Shandong province, Huang graduated from the Beijing Film Academy and rose to fame by starring in TV series such as The Return of the Condor Heroes and Shanghai Bund. He also starred in movies, including American Dreams in China and The Message, which won him a large fan base.
Related:
Spielberg offers tips for aspiring directors