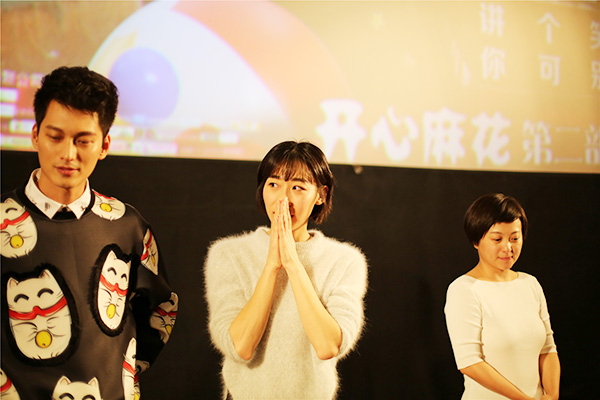 Cast member Ren Suxi addresses the audience at a press conference. [Photo provided to China Daily]

Mr Donkey, the cinematic remake of a stage play of the same title, will hit Chinese theaters on Oct 20.
The film is about a rural school president who creates a nonexistent teacher "Mr Donkey", as a means to siphon off funds to pay for a donkey used to transport water.
Then, when the local authorities send in inspectors to verify the details, the president and his accomplices resort to a series of lies to cover up the truth.
In most remote, poverty-stricken areas in rural China, teachers are paid by the government.
The film loosely based on real-life incidents drew a lot of laughs during previews held in Beijing and Tianjin, respectively on Oct 11 and 12.
Test screenings will also be held in Xi'an, Chengdu and Shanghai.
The film's director Zhou Shen heard the "donkey story" in 2009 and realizing it had potential, then teamed up with Liu Lu to produce a play in 2012.
The play has been performed in dozens of cities and has been listed as a favorite in a survey of nearly 100 colleges.
Mr Donkey, which features lesser known actors Ren Suxi, Da Li, Liu Shuailiang and Pei Kuishan, is expected to replicate the success of another low-budget comedy, Goodbye Mr Loser, which raked in more than 1.4 billion yuan ($208 million) last year.
Both the films, adapted from namesake plays, have been produced by Mahua Funage, an influential comedy group.
Related:
A look at Wuzhen Theater Festival