Angelina Jolie, Brad Pitt may reach deal over custody of children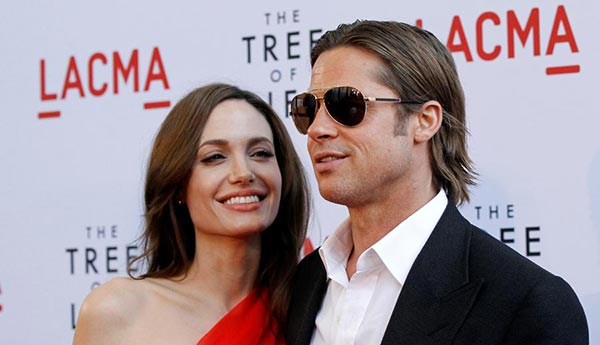 Cast member Brad Pitt and actress Angelina Jolie pose at the premiere of "The Tree of Life" at LACMA in Los Angeles May 24, 2011. [Photo/Agencies]
Oscar-winning actress Angelina Jolie and her Oscar best-picture winner film producer Brad Pitt may have reached a deal over custody of their children, according to unnamed sources.
The sources told local media including TMZ.com that the divorcing high-profile couple agreed to a deal at the recommendation of the Los Angeles County Department of Children and Family Services (DCFS).
Jolie and Pitt will both undergo individual counseling, and Pitt has agreed to undergo another drug and alcohol testing, though the previous one came back negative, said TMZ.com on Friday.
Jolie will get full physical custody of all six children, with visitation rights for Pitt, whose first visit must be supervised by a therapist who will decide the circumstances of future visits, it said.
Jolie, 41 years old, filed her petition on Sept 19 at the Los Angeles Superior Court, citing irreconcilable differences as the reason for the breakup.
Jolie starred with Pitt in 2004-2005 in the film Mr. and Mrs. Smith. At that time, Pitt was married to actress Jennifer Aniston. In January 2005, Pitt and Aniston announced they were splitting and Aniston filed for divorce a few months later. Months later that year, Pitt and Jolie appeared together. They married in August 2014.
Jolie has received an Academy Award, two Screen Actors Guild Awards and three Golden Globe Awards. She also has been cited in the past as Hollywood's highest-paid actress.
She made her screen debut as a child alongside her father, Jon Voight, in Lookin' to Get Out in 1982. Her first leading role in a major film came in 1995 in Hackers.
Jolie won an Academy Award for best supporting actress for her performance in the 1999 drama Girl, Interrupted.
She was previously married to actors Jonny Lee Miller and Billy Bob Thornton. None of her marriages lasted more than three years.
Pitt, 52, won an Oscar in 2014 as a producer of best-picture winner 12 Years a Slave. He received Oscar nominations for best actor for his work in Moneyball and The Curious Case of Benjamin Button, and won a Golden Globe for his supporting role in Twelve Monkeys.
He was also a producer for best-picture Oscar nominees The Big Short and Moneyball.
Various reports circulated after the divorce filing that the split was fueled by an airborne dispute between the couple on a private plane, with Pitt allegedly getting drunk and acting aggressively with the children, sparking a DCFS probe.
A spokeswoman for the US Federal Bureau of Investigation (FBI) said the federal agency was aware of the alleged airborne incident and was evaluating the circumstances to determine if a full-fledged invetigation was warranted.
Related:
Pitt-Jolie divorce: $25m worth of art collections at stake