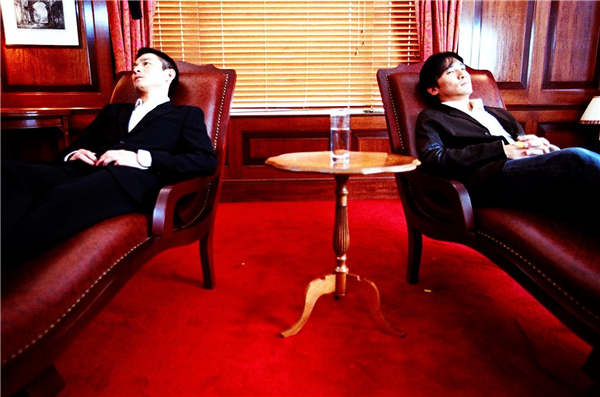 Infernal Affairs, starring Andy Lau (left) and Tony Leung, is a landmark among Hong Kong's gangster movies. Photos Provided to China Daily
A touring festival brings Hong Kong gangster films to six cities on the mainland, especially for those who have only watched them on VCR, Xu Fan reports.
From Jackie Chan and Chow Yun-fat to Tony Leung, many big stars have left their mark in gangster movies from Hong Kong, among the most influential genres in the city's cinematic history. But most mainland people born in the 1970s and 1980s watched the classics only on VCR, the forerunner of the CD.
Making up for that is the Hong Kong Thematic Film Festival, now in its fifth year, running in Beijing through Sunday. It will show 15 acclaimed gangster films, most of which have yet to be released on the mainland.
The touring festival started in Dalian in August. And after Beijing, it will move on to the cities of Jinan, Shanghai, Guangzhou, Shenyang, Chengdu and Wuhan, in the following months.
Veteran directors Ringo Lam and Johnnie To, both known for their stylish action films, are curating the event to promote Hong Kong's cinematic culture.
The festival shows the gangster movies' in-depth examination of camaraderie among those from low-income groups, the complex underground world and the general struggles of people.
Highlights of the festival include classics produced in the 1980s and mid-1990s - the golden era of the genre - such as Police Story (1985) that stars Chan; Lau's As Tears Go By (1988); and Once a Thief (1991) that has Chow in the lead role.