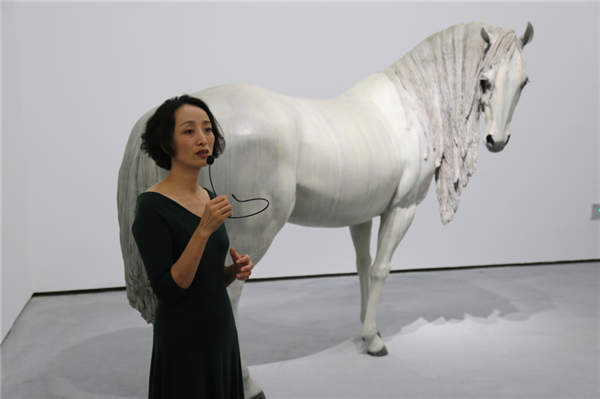 [Photo provided to China Daily]
Commenting on Xiang Jing's works from more than a decade ago, poet and curator Zhu Zhu says the sculptures show a quiet little girl's vision of things.
"She seems vulnerable; she is quite nervous; inside her, the feelings of the outside world erupt like lava to leave scars on her heart."
Since the late 1990s, Xiang, 48, has been known for her life-size sculptures of girls and women of different ages. Her husband, Qu Guangci, is an equally famous sculptor.
The Beijing-born artist highlights a female perspective on human nature and the world. 
She says she uses a woman's body in the different phases of her life to address not only identity issues but also shared perplexities.
Five years after her last exhibition at Beijing's Today Art Museum, Xiang is making a comeback with a large-scale show reviewing her works since 1999, as well as her latest series, S, at the Minsheng Art Museum in the capital.
Curated by Zhu, the exhibition, titled Upon This Anguish I Repose, has some 100 of Xiang's works.
"I'm afraid of being in a state of emptiness. I can't live without thinking," she says, adding even if it means being constantly anxious.
"It tortures me a lot when I conceive a work and then go into self-doubt mode."
The show has her iconic sculptures of young women, in some of which she portrays the mental state of a teenager or young adult who resists growing up.
Between 2003 and 2005, her works were about older women, who, after being engaged with society, were seeking to balance their desires and reality.
Since 2009, Xiang has been using fewer female forms, especially nude, in her works.