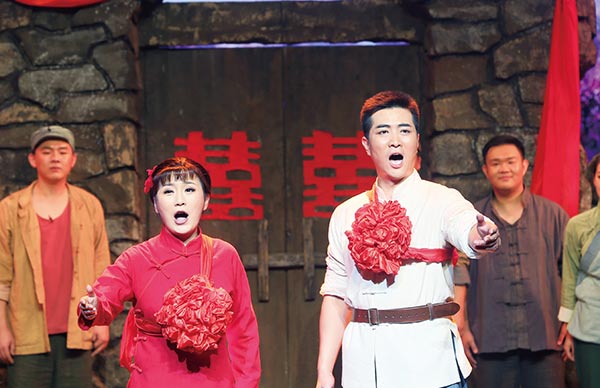 A scene from Marriage of Xiao Erhei. [Photo provided to China Daily]
Marriage of Xiao Erhei, a classic Chinese opera adapted from Chinese famous writer Zhao Shuli's novel with the same title, will be staged with a latest production by China National Opera and Dance Drama Theater from Sept 23 to 25 at Poly Theater in Beijing.
The opera, which premiered and first made by the opera department of Central Academy of Drama in Beijing in January 1953, was among the earliest original Chinese operas.
Telling the story of Xiao Erhei, a peasant of Shanxi province, who falls in love with a young woman, named Xiao Qin, from his village. However, their parents were against their relationship.
The songs in the opera, including Clear Water and Blue Sky, have been popular for generations.
According to the director of the opera, Huang Dingshan, the latest production will be accompanied by a folk orchestra. While maintaining the local music elements of Shanxi province, the opera will also has contemporary elements to cater to the young audiences.
The actors will combine the traditional Chinese operatic singing style with Western operatic singing style.
Guo Lanying, 87, who performed the role of Xiao Qin in 1953, is the artistic director of the latest production.
In 2015, China National Opera & Dance Drama Theater successfully reproduced the classic Chinese opera, The White Haired Girl, the tale of the miseries of farmers in the late 1940s.
Related:
Popular Israeli play on war returns to China
An exhibition in honor of Tang and the Bard begins world tour