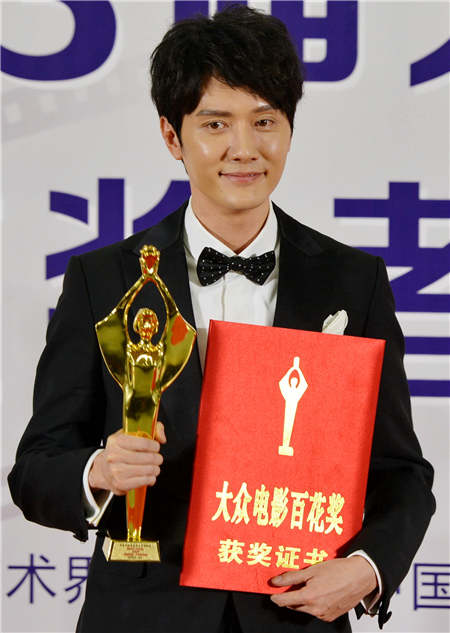 Feng Shaofeng wins the Hundred Flowers Awards' best actor. [Photo provided to China Daily]
Acting awards are supposed to go to those who have demonstrated excellence in acting.
So, a strong sense of irony is bound to emerge if the least qualified end up nabbing such honors.
This was exactly what happened over the weekend at the Hundred Flowers Awards.
A collective response of shock followed the announcement on Saturday night of winners for three of the four acting categories. Not only did Feng Shaofeng in Wolf Totem win best actor, Li Yifeng in Mr Six win best supporting actor and Yang Ying in Mojin: The Lost Legend win best supporting actress, but they all trumped contenders whose performances were widely hailed as far superior.
Only if you judge a performance purely by the physical appeal of the actor would you come to the conclusions reached in this edition of the Hundred Flowers Awards.
Yes, Feng Shaofeng is better looking than Feng Xiaogang in Mr Six or Huang Bo in Dearest, but any other standard-no matter what school of acting you choose-would not have supported this choice.
To make sense to those readers not familiar with the names, one would have to make up an equivalent because it does not exist elsewhere in the real world. For instance, Justin Bieber defeating both Johnny Depp and Robert DeNiro in nailing the acting kudos.
The result cannot be justified by the subjective nature of evaluation alone.