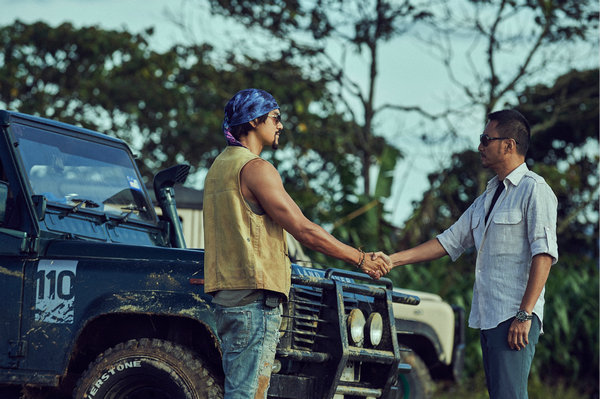 Operation Mekong, starring Eddie Peng Yuyan (left) and Zhang Hanyu, tops the box-office charts during the National Day holiday week.[Photo provided to China Daily]
Mediocre 'blockbusters' drag down ticket sales, though experts say a slowdown in the Chinese movie market was predictable, Xu Fan reports.
For years a Golden Week was a time to celebrate a box-office bonanza, but the National Day holiday is seeing its gilt edge fade.
This year's just-concluded holiday, from Oct 1 to 7, raked in a disappointing 1.58 billion yuan ($237 million), down nearly 15 percent compared to the same period last year, according to the live tracker China Box Office.
It marks the first such slump in eight years, since the holiday became a lucrative period for ticket sales in 2008.
The holidays in the past three years-which saw revenues come in at 617 million yuan in 2013, 1.09 billion yuan in 2014 and 1.85 billion yuan in 2015-once pushed the year-on-year growth average up to around 70 percent.
Despite 15 movies premiering close to or during the holiday, only four domestic films became blockbusters, accounting for 92.3 percent of the box-office tally.
Operation Mekong, based on the true events that saw 13 Chinese sailors brutally killed by a Myanmar drug ring in 2011, topped the charts by bringing in 530 million yuan.
Earning 466 million yuan for a No 2 finish was the romance drama I Belonged to You, adapted from best-selling author Zhang Jiajia's namesake short-story collection.
Author-turned-director Guo Jingming's fantasy epic L.O.R.D Legend of Ravaging Dynasties came in third at 274 million yuan, followed by the action comedy Mission Milano starring Andy Lau at 188 million yuan.
Scores on review sites suggest a lack of quality plagued the collective holiday offerings.
Operation Mekong was the only title to win acclaim among the top four, with a high score of 8.2 points of 10 on China's top fan-rating site, Douban.