Penfolds celebrates a robust series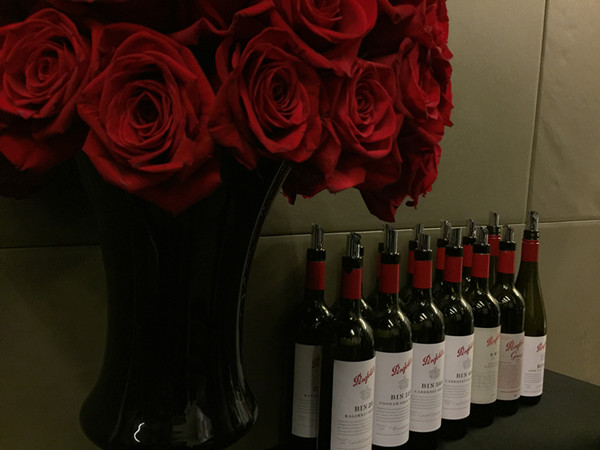 The latest Penfolds wines include two whites and several robust reds.[Photo provided to China Daily]
A tasting with a winemaker doesn't usually come with a string quartet-even in France. But the four ladies in red silk and harmonious bows were a sign that Penfolds considers its latest crop of wines to be something special.
The unveiling showed that China is as special to Penfolds as the new series of wines, which was introduced and tasted for the first time in Beijing just before the Oct 1 holiday. It's no secret that China is now the world's No 1 market for red wine, and the Australian company was early to see the potential here and establish its brands, notably Bin 28, Bin 389 and Grange.
"I love the 2008 and the 2010 Grange," says Kym Schroeter, a senior winemaker with the giant vintner and the leader of the tasting. "But the 2012 could be the greatest Grange ever."
That latest Grange joins the new series of 2014 whites and dry reds on store shelves this month.
Grange has been the flagship wine for Penfolds since 1951, but it wasn't always the apple of the company's eye. Before the '50s, the company was mostly known for fortified wines and sherries, but winemaker Max Shubert had different ideas.
"Max had been to Bordeaux and fallen in love with the dry reds there," says Schroeter. "He'd also discovered new American oak, which was barely on the winemaking radar at that time." The combination, Schubert was convinced, offered a chance to greet something brand-new and wonderful.
Not everyone at Penfolds was so sure. The marketing folks in the company, in fact, were simply outraged.
"Who's going to drink this?" was the common refrain among the sales team, Schroeter says, and the grumbling was so loud that management forbade Shubert from fermenting his newfangled vintage. The winemaker, however, continued to do so in secret, and after the wine won a big award in 1960, Shubert and his baby were immediately favorite sons at the company. (The "hidden Grange" vintages of 1957-'58-'59 now command big bucks at auction.)
Today, Shubert is a legend in the industry, and wine lovers who may never have heard of him are lining up to buy the big, rich, flavorsome wines that have made Penfolds a powerhouse in the market over the last 50 years.
While Grange is the star of the line, the current winemakers at Penfolds are almost as buoyant about the least expensive vintage in the group: the 2014 Bin 28. "Chocolate, berry fruit, power and structure," says Schroeter of the 100-percent shiraz from Penfolds' Kalimna vineyard. "The 2014 is more elegant than the '13, though maybe not as full and gutsy."