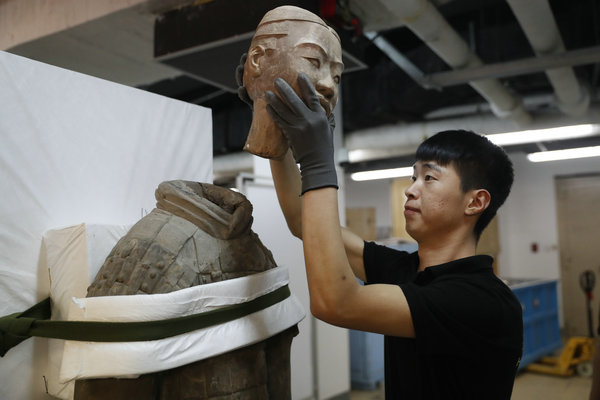 Staff members from Art Exhibition China pack the treasures in Beijing for the upcoming show Chinese Characters: A Legacy and Marvel Perfected Over Three Millennia in Japan. The exhibits include Terracotta Warriors carved with words and a 7th-century gold slip with 63 characters.[Photo by Jiang Dong/ China Daily]
An exhibition of writing that goes back 3,000 years will tour Japan through next year, Wang Kaihao reports. A panoramic history of Chinese writing is heading eastward.
On Oct 18, the exhibition Chinese Characters: A Legacy and Marvel Perfected Over Three Millennia will begin its one-year tour of Japan. The show includes 118 sets of cultural relics on the development and aesthetics of written Chinese.
These treasures-20 percent are classified among China's top-level cultural relics-cover a wide spectrum. They include inscriptions on oracle bones dating back to the Shang Dynasty (16th-11th century BC), epigraphs on bronzewares, stone rubbings and calligraphy masterpieces.
The exhibits are on loan from 17 Chinese museums in six provinces and municipalities. The display is to be first shown at Tokyo Fuji Art Museum, and will later move to Kyoto, Niigata, Miyagi and Gunma in a tour that continues through September 2017.
The exhibition is designed in three parts: origins of Chinese characters, calligraphy works by renowned artists and their usage in people's daily lives, and the influence of Chinese characters on neighboring countries.
"Chinese characters comprise a unique writing system in the world, whose development has remained uninterrupted for 3,000 years," says Wang Jun, director of Art Exhibition China, the national administration in charge of exchange exhibitions between China and other countries.
"That enables ordinary Chinese people, even without professional training, to recognize many characters from thousands years ago, which is a miracle."
He says many milestones in the development of Chinese characters are to be juxtaposed in the exhibition. A 2,300-year-old bronzeware inscribed with the earliest Chinese duty-free certificate ever found, Terracotta Warriors carved with words and pieces by top 13th-century calligraphy artists such as Zhao Mengfu as well as by Qing Dynasty (1644-1911) emperors are among the highlights.
A 7th-century gold slip with 63 characters is probably one of the most important exhibits. It was used for worship by Wu Zetian (AD 624-705), the only female ruler in imperial China, and is the only cultural relic ever found that belongs to the legendary queen. The slip was once exhibited in Japan a decade ago.