Tastes of West Lake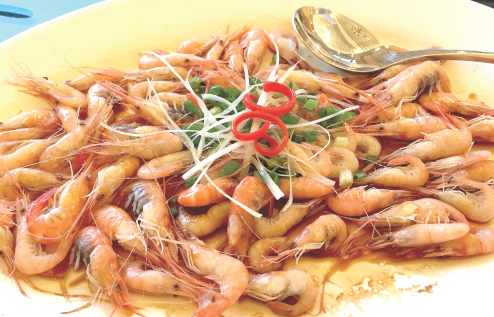 Steamed shrimp with soy sauce is the most popular dish with visitors.[Photo by Yang Feiyue/ China Daily]
Hangzhou chef shops near and far to serve good food at resort hotel, Yang Feiyue reports.
Yang Feiyue Chef Hu Chuanqing brings external and local culinary elements together at Hangzhou's Xanadu Resort.
"I believe in serving good food to my guests, whether it's local or not," says the 47-year-old, who's been in the catering business for 25 years. He's now running the kitchen in the Crowne Plaza's Taoyuan Chinese restaurant.
Born in Xiaoshan, an underdeveloped district then in Zhejiang province's Hangzhou, Hu's grasp of catering was deepened when he got a chance to work in Shanghai from 1992 to 1994.
"At that time, Shanghai people loved our local dish Dongpo pork, and I was good at cooking it, so I got the slot," Hu says. Made from a slab of pork belly, the lengthy "red cooking" time of more than three hours results in fat without much of its greasiness.
Working in the big city for two years, Hu returned to Xiaoshan and worked his way up as head chef in various well-known restaurants.
Since 2000, Hu has visited places with well-developed catering industries, including Guangdong province's Guangzhou and Shenzhen, Hong Kong and the Sichuan provincial capital, Chengdu.
Thee, he would study local recipes and learn related cooking methods, and then make certain adaptations.
On our visit to the restaurant, we opted for the braised weever, a dish Hu introduced from Jiangxi province. The light sweetness of the fish was brought out perfectly by the slightly salty sauce.
"When I had it, I knew I had to serve it," Hu says.
Originally, the dish came in the form of hotpot, a build-it-yourself soup over a burning flame. To adapt it to local tastes, Hu uses Hangzhou's wild Mandarin fish or weever, braised in brown sauce.
Now, the dish is among the restaurant's most popular, Hu says.
The roast chicken is another example of Hu's ingenuity.
The dish was inspired by both the traditional Chinese roasting method and Western hamburgers. Sliced roasted chicken skin, Hami melon, toasted bread and lettuce are neatly piled together with salad sauce. The greasy skin is balanced off nicely with the fresh fruit and vegetable.