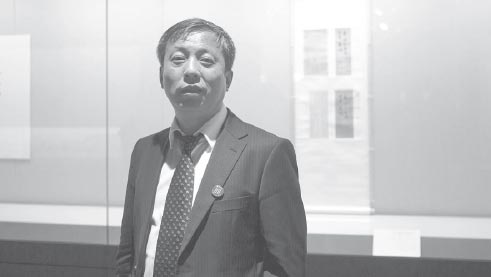 Power duo: Liu Yiqian and Wang Wei have now opened three Long Museums in China. A fourth will be opened in Wuhan in two years. [Photo by Gao Erqiang/China Daily]
While artists, officials and guests gathered in the banquet hall to celebrate the opening of the Long Museum in Chongqing, a man was fast asleep in the hallway with his feet, clad in purple socks, propped on the coffee table.
Oddly enough, it was the founder of the Long Museum himself, Liu Yiqian, who was on the side-lines of the celebrations. Given his hectic schedule ahead of this much-anticipated opening of the museum, hardly anyone would fault him for his faux pas.
The 53-year-old billionaire is one of China's most high-profile art collectors. He is also the person behind the series of Long Museums in the country. He founded the first Long Museum in Shanghai's Pudong district in 2012 before introducing another to the city's West Bund area in 2014.
In the few years since their founding, Shanghai's Long Museums have presented a series of exhibitions that have raised the eyebrows of art experts home and abroad. An ongoing exhibition at Long Museum West Bund features works by award-winning Danish-Icelandic artist Olafur Eliasson who is renowned for his large-scale installations.
The 40,000-square-meter Long Museum Chongqing was officially opened on May 27. This latest facility occupies the first three stories of the Guohua Financial Center, which was built and owned by Liu and his investment company. Liu had bought the piece of land, located in Jiangbeizui in downtown Chongqing, for more than 700 million yuan ($106 million) in 2011 through public bidding.
It took him almost five years to complete the twin towers of the property. The two structures, which measure 31 and 26 floors in height, overlook the Jialing River and is located across the brand-new Chongqing Grand Theater. According to real estate promoter fang.com, the price of units in the buildings starts at 28,000 yuan per square meter.
Liu's museum empire is set to expand further. The fourth Long Museum will open in the city of Wuhan, Hubei province, within two years. The museum in Wuhan will be housed within a building that has been specially allocated by the local government.