Grabbing crabs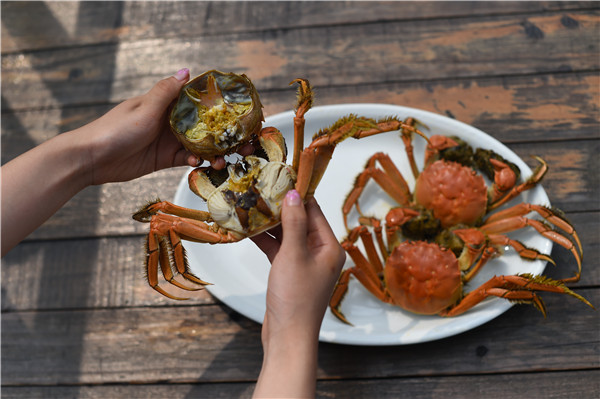 Hairy crabs raised on Yangcheng Lake in Suzhou, East China's Jiangsu province, have been one of the country's best bites of autumn and are popular across Southeast Asia as well.  [Photo provided to China Daily]
Jiang Wanchun put aside 2,000 yuan ($300) last month to buy his favorite seafood-crabs.
The 65-year-old Suzhou resident is a crab connoisseur. Every year, from September to December, he spends one-fourth of his monthly salary to buy the delicacy. The city in Jiangsu province, East China, has been one of the country's tourist favorites for centuries.
The picky retired bookstore manager only eats those harvested from the nearby Yangcheng Lake. The crab meat is "tender, sweet and juicy", he said.
"There's a reason that the Yangcheng Lake hairy crabs have made their names nationwide," said Jiang. These crabs are usually sold across the country, gradually becoming a dinner table luxury, which encourages farmers to raise hairy crabs in other waters in the region.
"Unlike many lakes that exist on top of mud, Yangcheng Lake has numerous stones on its bed. Therefore, the crabs have clean white bellies and do not have the annoying taste of mud in their meat.