Fishing Expedition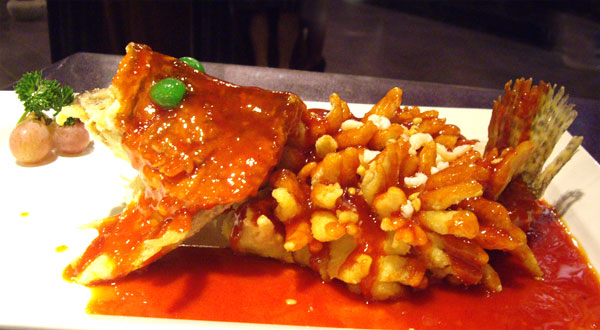 Squirrel-shaped Mandarin fish is a Suzhou specialty that has a long history. [Photo by Rebecca Lo / for China Daily]
Freshwater fare awaits at the atmospheric Shantang branch of Songhelou, Rebecca Lo discovers.
Shantang Street is high on the list of most visitors' itineraries to Suzhou with good reason. Quaint two-story structures line canals that are crisscrossed by scenic stone bridges. The area's romance is best enjoyed in the evening, when strains of opera can be heard wafting through the trees.
For more than 1,500 years, Shantang's 3.5 km of streets and alleys have been the city's busiest. Its recent restoration has transformed it into a bustling place of commerce, attracting people with its charming combination of cafes, bars and shops selling unique Suzhou products.
We were advised by our taxi driver that folks in Suzhou start dining by 5:30 pm and that we should expect many restaurants to be closing as it was already 7:30 pm when we headed out. Good thing that we didn't pay him any attention, and we proceeded to find the doors to Songhelou open for business as usual.
Located in the western part of the district, this branch of the 2-century-year-old Songhelou is set in a pretty two-story building that blends harmoniously with the surrounding architecture. The entry contains a formal wall that gives the open dining area beyond some much-appreciated privacy from customers arriving and departing.
As we settled into our table, we saw that there was an upper level offering private dining rooms toward the rear. Wooden tables and stools generously filled the airy space with ceramic potted plants and dark wood screens decorating the walls. Ink paintings lined the hallway on the upper level, adding elegance to the monochromatic interiors. The restaurant was comfortably contemporary while giving due respect to traditions at the same time.
We were advised to try the squirrel-shaped Mandarin fish, a Suzhou specialty that has a long history. Legend has it that an emperor arrived in the city and ordered a fish; the chef decided to make something extra special and scored the flesh in a crisscross manner to make it stand up like a squirrel's bristling mane.
Our fish was served in the classic bright red sweet-and-sour sauce, decorated with green cherries for the eyes. Dotted with freshwater shrimp and pine nuts, the crispy flesh rose up in spikes around the body, while its large mouth was wide open and stood upright along with its spiky tail.