French chef keeps it simple
Michelin Star chef Daniel Chambon compares the preparation of an ingredient to a woman putting on makeup. If she puts on light makeup, it is her true self. If she puts on heavy makeup, she might look lovely, but it is not her.
"Instead of making an ingredient stand out, a good chef should let an ingredient's taste stand out by itself," says the French chef.
Gourmets in Beijing were lucky to try what is possibly the world's best black truffle and foie gras at Flo Beijing recently, when chef Chambon visited Beijing from Sept 13-22 to showcase his culinary skills, featuring delicacies from Perigord, France.
Chambon respects natural, quality products, and selects the best of raw ingredients to get the most out of their natural flavor. He believes "the truth is in the plate", and "what is hardest, is to do things simply".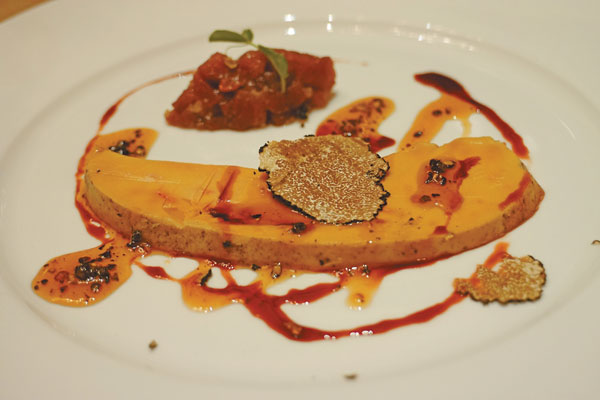 Pot au feu of "Rougie" fois gras fully expresses Daniel Chambon's passion for cuisine. Photos by Ye Jun / China Daily
The chef was born in 1949 in the small village of Lachapelle Auzac in Quercy-Perigord. It is a region famous worldwide for truffles, "black diamonds" of French cuisine, foie gras (duck liver), magret de canard (duck steak) and walnuts.
Chambon brought 3 kilograms of black truffle with him from France. Before his visit, he had planned to choose what Chinese customers like to eat to put on the menu, "but it also must be traditional and authentic".
He knew Chinese people do not eat as much salt, so he planned to prepare foods light.
"In fact, I know there are foods Chinese people don't like as much," he says. "But I want to challenge that, and make you like them."
He has been trying everything in China, he says, with the exception of snake and scorpion at the Donghuamen "small food" street for tourists.
He has tried Shunfeng's Cantonese seafood, Da Dong's Peking roast duck and 1949 Duck de Chine. His favorite Chinese foods are chow mein and jiaozi.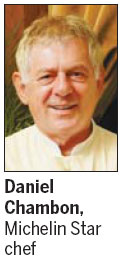 Comparing Chinese cuisine with French cuisine, he says both have regional styles and are rich in variety.
"There is a little difference between the gourmet philosophies of the two countries," says Chambon. "French cuisine places more respect for the ingredient, while Chinese cuisine is a bit more complicated in preparation."
The chef said he has noted how closely Chinese people relate specific ingredients with health, which does not happen in France.
Daniel Chambon has a one Michelin star hotel restaurant, Le Pont de l'Ouysse. He was awarded three toques in the Gault et Millau guide in 1995, which recognized him as one of the 12 "Great Chefs of Tomorrow".
"I gained from my mother the passion for cuisine, fresh products, and culinary and original taste which I built with her day by day by helping her in the kitchen during my childhood," he says.
He trained and worked under influential leaders of the French culinary scene such as the legendary Chef Alain Ducasse of Louis XV in Monaco and pastry master, Gaston Lenotre.
In 1988, the chef started traveling abroad to promote French cuisine in luxurious hotels and cruise liners, sharing his culinary creations and passion with food lovers around the world.
During his travels outside of Europe and France, Chinese food impressed him the most.
"Italy also has a great gourmet background, but Chinese cuisine offers a great impact on the taste buds," he says. Another factor for that feeling is the taste in China is so different from where he grew up.
Chambon admits a basic requirement for a good chef is he can prepare not just high-end ingredients, but make ordinary ingredients tasty. After all, only a small number of people can afford those expensive ingredients.
While offering delicate foods at his Michelin-starred restaurant, Chambon has another restaurant in France where he offers more ordinary ingredients at lower prices. He says making dishes out of ordinary ingredients better than other eateries is also part of his passion.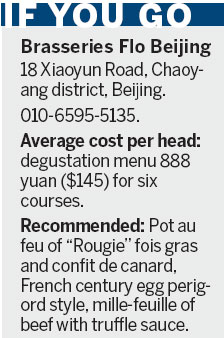 The chef discovered some good ingredients and seasoning products in China, such as very good wild fungus, pigeon and Chinese pepper from Sichuan.
After spending 40 years in the kitchen, he has witnessed many changes in the culinary world. Just like chefs now use different sauces, culinary traditions also change. The change comes not just from people's developing tastes, but also from variations in ingredients and cooking techniques.
The inventive chef says he has never stopped researching new ingredients and new cooking methods.
His latest experiment is to put chicken with seafood, which works surprisingly well. He has also prepared two new, innovative dishes, one with pork face and the other with cheese and black truffle.
French cuisine has changed from "standing" to "flat", and then to "standing", or dimensional again, he says. It is more powerful, with a better chew.
But the biggest change, he says, is "after a whole circle of things, it has returned to where it started - traditional."
Chambon says he is not planning to open a restaurant in China, because it would be difficult to prepare things to his exacting standards. But he would like to come to China as often as possible.
Chef Daniel Chambon's menu will be continued by Allan Limmer, Flo Beijing's executive chef for one month from Sept 22. His most popular dishes will become staples of Flo's menu.