Fishing Expedition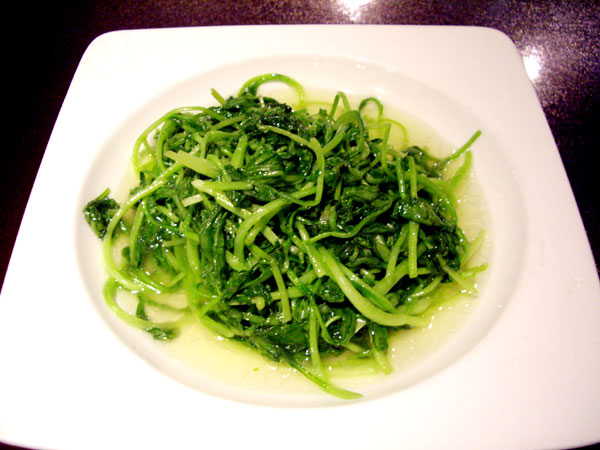 Leafy Chinese greens [Photo by Photos by Rebecca Lo / for China Daily]
We broke off chunks and dipped them into the sauce before popping them into our mouths like candy. The crunchy deep-fried flesh gave way to succulent moistness, with its mild sweetness tempered by the intensity of the sauce. It was like the best combination of street snacking and formal dining, and we gobbled the entire fish up in no time.
I love tofu and wanted to try the tofu in crab sauce as the photo on the menu looked delicious. It was served in a clear glass casserole dish set within an ornate golden basket, which raised my expectations for what I thought would be a simple dish. It was indeed simple, but the freshness of the ingredients transported it to the realm of the spectacular.
Silky tofu and sweet crab with savory roe blended perfectly together for a rich, satisfying dish that easily glides down the throat into happy tummies. Though we didn't order any rice, I wished that I had room in my stomach for the crabs as the sauce was worth mopping up.
Our waitress told us that the cucumber side dish we ordered was unavailable that day, and suggested a local leafy vegetable instead. We went with her choice and wok-fried greens were presented to us that were like spinach crossed with pea shoots. With just a sprinkling of salt, it was summer on a plate in its freshness.
As we were departing, we noticed that Songhelou had takeaway boxes of home-made biscuits featuring peanuts, walnuts and cashews. I couldn't resist a box that ended up as a delicious souvenir reminder of an equally delicious meal.
If You Go
Song Helou
198 Shantang Street, Suzhou
512-6532-1398
Average cost per person: 200 yuan
Recommended:
Tofu in crab sauce
Squirrel shaped Mandarin fish