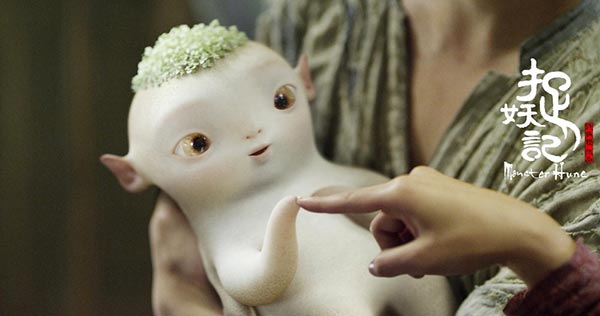 A scene from Monster Hunt. [Photo/Mtime]
A top Chinese box office movie
Monster Hunt
was a double winner at the grand finale of the 13th Annual Abuja International Film Festival which ended on Friday at the Nigerian capital.
Monster Hunt, produced last year, won two highly coveted prizes, namely the "Outstanding Film In Animation" and "Golden Jury Award" at the closing gala of the festival.
The Chinese film, which was screened at the festival, evoked a thunderous applause from the international filmmakers and audience when it was mentioned twice as the best in the two aforementioned categories.
Monster Hunt was a commercial success, breaking numerous box office records upon release and took the crown as the highest-grossing film in China last year.
Three other Chinese films -- Monkey King, Ballet In Flames Of War and Bonnie Bears, were also screened at the film festival.
All the Chinese films were nominated in six different categories of award.
Yan Xiangdong, cultural counselor at the Embassy of China in Abuja, while receiving the two awards, said in the previous edition of the festival, only Chinese feature movies were recommended.
"These two prizes are very important to us. I am very excited. The animation movies are very popular, so this time we concentrated on this animation movies," he said, adding "I think it means that the animation movies are well recognized by the professionals here.
The annual Abuja International Film Festival is the biggest in West Africa, poised at rewarding creativity in filmmaking.
According to organizers of the four-day film festival, the nominees were selected after a painstaking two weeks of screening of over 700 films from 39 countries. The screeners were made up of industry stakeholders, including filmmakers and film critics.
The films screened and awarded at the festival were received in all genres -- features, shorts, documentary, animation and experimental films.
Related:
China nominates 'Xuan Zang' for Oscar's Foreign Language category
Feng Xiaogang's new film wins awards in international film festivals