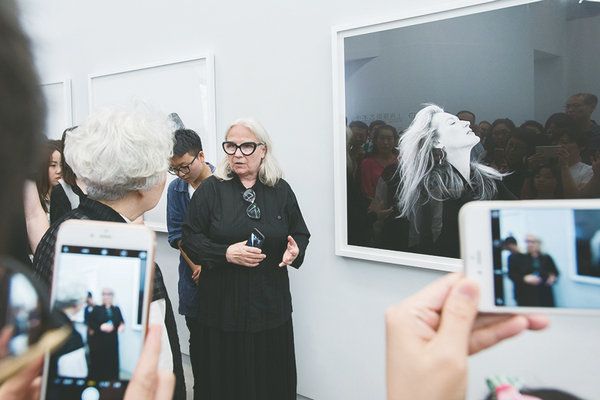 Brigitte Lacombe speaks during her exhibition at the Shanghai Center of Photography.[Photo/China Daily]
A master of portrait photography, Brigitte Lacombe has built a name for herself with her ability to bring out the true essence of her subjects.
Fifty of Brigitte Lacombe's most iconic works were on exhibition recently at the Shanghai Center of Photography, a new museum founded by Pulitzer Prize-winning photojournalist Liu Heung Shing.
Titled Inside Cinema, this was the French photographer's first solo exhibition in China.
The 65-year-old, renowned for her ability to capture the intimate side of people, has photographed countless celebrities throughout her illustrious career which started about three decades ago. Lacombe's works have been widely published in magazines, including Vanity Fair, Glamour, The New Yorker, GQ and The New York Times Magazine.
A school dropout who chanced upon photography while fiddling with her father's camera, Lacombe first worked as a trainee in the dark room of Elle magazine when she was just 17. Two years later, her mentor left the publication and convinced the boss that Lacombe was qualified to take her position.
"I was really lucky. I was just 19 years old but I was told to cover events and do studio shoots right away," says Lacombe.
Her big break came in 1975 when she was assigned to cover the Cannes Film Festival. As women photographers were a rarity back in those times, she naturally stood out from the crowd of men. However, it was her photographic style that shone the brightest.
Following the publication of the images, her keen eye for photography was quickly recognized by influential people from the movie industry. She soon found herself in the acquaintance of Hollywood stars such as Dustin Hoffman and Donald Sutherland.
Impressed with the style and quality of her work, the two actors commissioned her to take behind-the-scenes photos during the filming process.