Much-needed makeover for Shenyang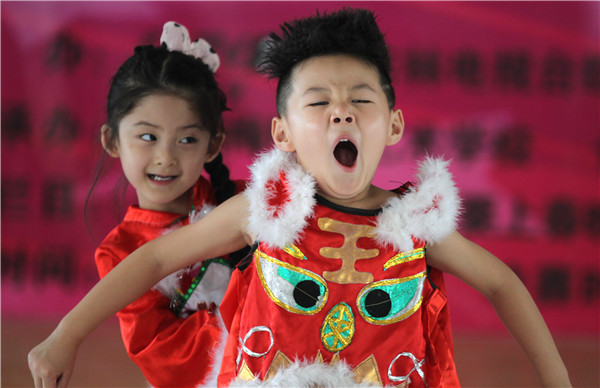 Two young performers enact Errenzhuan, or Bengbeng, a duet comprising song and dance, in Shenyang, China's famous manufacturing base. For long home to age-old traditional lifestyle, it is seeking to reinvent itself by embracing modern art forms. BAI SHI/CHINA DAILY
Xu Bili is busy negotiating with a French curator to introduce a new art exhibition to Shenyang, capital of Liaoning province.
"I want to introduce more international arts and a modern lifestyle to Shenyang, to make the city stand out from others and be full of fun," she said.
The Chinese-Belgian, 30, together with her husband and a partner, founded 1905 Re-creative Space in 2011 in Shenyang.
It is a commercial property that houses creative workshops, bars, cafes and such establishments alongside art exhibitions.
The space is retrofitted from a 79-year-old plant, which is preserved as a relic of, and a tribute to, the city's glorious industrial history.
Known as the "Oriental Ruhr", Shenyang has been the manufacturing base of China since 1930s. Here, there is never a shortage of "hard" signs such as huge factories. The city, however, lacks the "soft" touch of art exhibitions.
"The city is boring for youngsters. And I can hardly find a stylish café after 10 pm in the downtown," Xu said.
"There is a cultural 'gap' in Shenyang. The old industrial civilization does not sit side by side with modernity. That's why, I want to build a platform combining industrial culture, modern culture and arts."
However, it's not easy to find a clear for-profit model. Xu's challenge is to make a clear break with the local culture as represented by Errenzhuan (a song-and-dance duet performance popular in Northeast China), and encourage local consumers to develop a new mindset.
Fortunately, she found a gold mine in the Single Lady Market site after numerous attempts. "The post-'80s and post-'90s women like literature and arts; they are our most active customers," she said.
Over the years, Xu-led 1905 has developed open classes and workshops on various topics, ranging from painting to cooking.