Much-needed makeover for Shenyang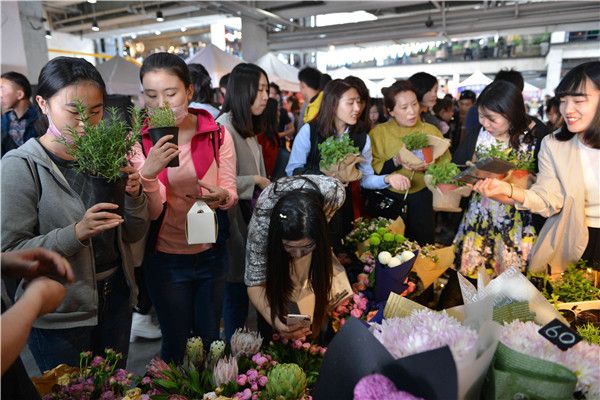 Consumers throng a flower and sapling art corner at the 1905 Re-creative Space in Shenyang. [Photo provided to China Daily]
The couple launched "We Are Here", an international young artist exchange project, in 2013. In the past three years, 18 European artists had visited the 1905 space and created works together with local young artists.
At 2015-end, their venture's annual income doubled from the level at the end of the first year of operations. Eighty percent of the profit came from the post-'80s and post-'90s single women.
"The 1905 space has become an icon for local arts. It can meet almost all of my needs like learning new things, art appreciation and bars. If you don't know 1905, you are out (of fashion)," said Zang Weiwei, 25, a local single working woman.
Shao Jianbing, a professor at Liaoning University, said, "It appears single Chinese working women, especially in big cities, increasingly prefer to invest in themselves rather than in marriage. Also, consumption patterns of the younger generation have changed. They are more willing to pay for cultural and leisure things."
Shao's view is a throwback to economist F.T. McCarthy's 2001 theory of "The Bridget Jones Economy" (or the single women economy), published first in The Economist magazine. According to him, single working women are more likely to indulge in impulse buying. Data shows that single women's spending on food and fashion is 2.7 times that of married women in the same age-group.
Xu said, "I hope to create a fashion lifestyle for them (single working women). Nearly all of my employees are post-'80s women who can relate well to youngsters and encourage them to develop local cultural and creative industries."
Contact the writer at liuce@chinadaily.com.cn
Related: Supply-side reforms help recast manufacturing in the northeast