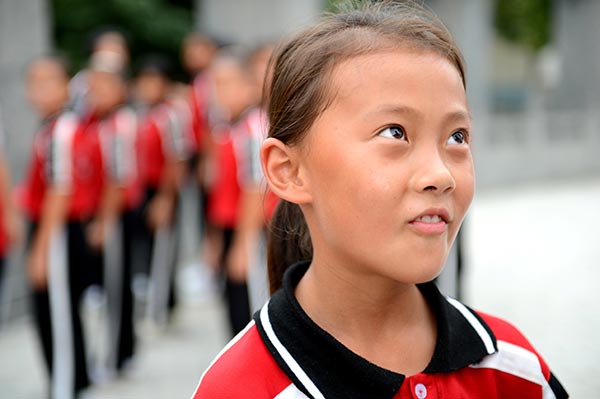 Children learn kung fu in a school of the Taguo Education Group in Dengfeng, Henan. [Photo by Xiang Mingchao/China Daily]
Inside a large hall of the lush Shaolin establishment in Central China, the stage is set on a recent afternoon. The arc lights are switched on and a few chairs laid out in a neat row. The place echoes in the collective hum of people's voices. Young monks in shaven heads and gray robes gather in a corner of the room.
The heavy rains outside lash at the trees of a compound that is thought to bear a 1,500-year-old history. A stream noisily gushes out to meet a river in the foothills of the Song Mountain.
A sudden quietness then engulfs the hall as its main door is flung open to allow the abbot Shi Yongxin to walk in. A delegation from a martial arts school in Japan and dozens of other visitors follow him to an area in front of the stage. After Shi and his main guests are seated and the rest remain standing, the kung fu presentation begins.
Thirty of Shaolin's finest monks show their skills-slicing the air with their fists and feet. A group of foreign male trainees join in. But unlike movies made in Hong Kong and Hollywood, there is no music accompanying their rapid moves. The practitioners only make a few signature sounds of the wu shu (martial arts) vocabulary.
The show in Dengfeng, a county-level city in Henan province, mesmerizes the onlookers who let out loud gasps much to the amusement of the resident monks.