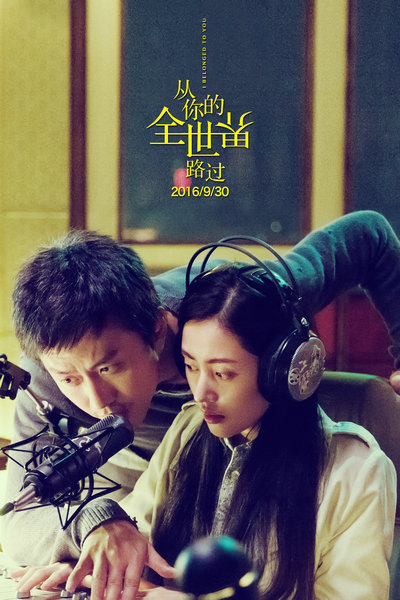 Romance drama I Belonged to You featuring actor Deng Chao and Zhang Tian'ai emerges the No 2 box-office winner during the recent holiday week.[Photo provided to China Daily]
The summer season, usually lasting from June to August, saw a 7 percent revenue fall compared to last year. Latest figures show ticket sales continuing to languish: The third quarter saw a year-on-year slump of 14.9 percent.
Not every filmmaker is singing the blues.
"The rise and fall are common in every movie market. We've experienced similar ups and downs in Hong Kong," says Cheng Pou-soi, an established Hong Kong-based director known for The Monkey King franchise.
"No matter how the figures change, the most significant value of film will never change. It's about telling a good story," he says.
A joint report by China Film Art Research Center and Entgroup shows that this National Day holiday week, movies won the highest level of satisfaction compared to other holidays since last year's Spring Festival.
The report, which was released on Tuesday after polls of 1,500 moviegoers and 100 movie critics in 11 cities, concluded that the holiday's movies scored up to 82.7 points out of 100.
Li Zhen, the center's researcher, says domestic features have seen an improvement and will generate more genre-driven films such as Mekong Operation.
Ding Yaping, a researcher with China National Academy of Arts, predicts the downturn will act as a double-edge sword, making low-budget films more attractive to investors regardless of their quality.
"It may hurt some new filmmakers who have good ideas, making it more difficult for them to find investors, but in the long run the market will become more healthy and rational."
Contact the writer at xufan@chinadaily.com.cn